Milwaukee Instruments 716798 PH55 Waterproof Ph Dual Level LCD T...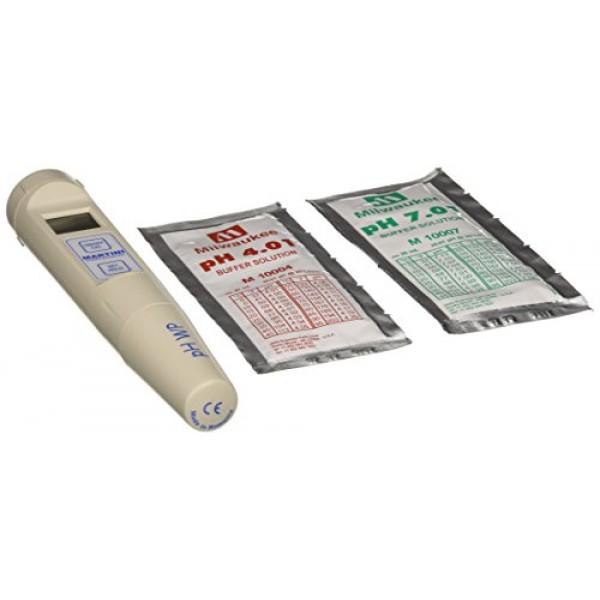 Milwaukee Instruments (716798) PH55 Waterproof Ph Dual Level LCD Tester
IP67 Waterproof pH tester with Large dual level LCD that displays pH and temperature (C or F). The large display shows reading in an extended range from -2.0 to 16.0 pH and simultaneously show temperature from -5.0 to 105.0 (Celsius) or 23.0 to 221.0 (Fahrenheit). Has a stability indicator and hold function that freezes the displpay for easy and accurate recording. THe large display also has graphic symbols to guide you through all operations. Comlete with a temperature probe for faster and more precise temperature measurement , this meter compensates automatically for temperature. Calibration is made automatically in 1 or 2 points with memorized standard and NIST buffer sets. Auto power OFF saves battery power after non-use.The double-junction electrode can be replaced in a very fast and simple way! The modular design allows easy electrode and battery replacement. The pH55's exposed temperature sensor provudes fast response time, and its proximity to the pH electrode guarantees much more accurate temperature compensated readings. Replace the electrode in a fast an simple way yourself! Just unscrew the plastic ring on the top of the electrode and replace with a new one.Ships complete with protective cap, 20 mL, pH 4.01 and pH 7.01 sachets of calibration solution, batteries and instructions.
Includes protective cap
Includes 20ml sachets of ph 4.01 and 7.01 calibration solution
Batteries included
2 year manufacturer warranty