Led Grow Light, CF GROW Desk Clip LED Plant Grow Lamp 5W with 360°...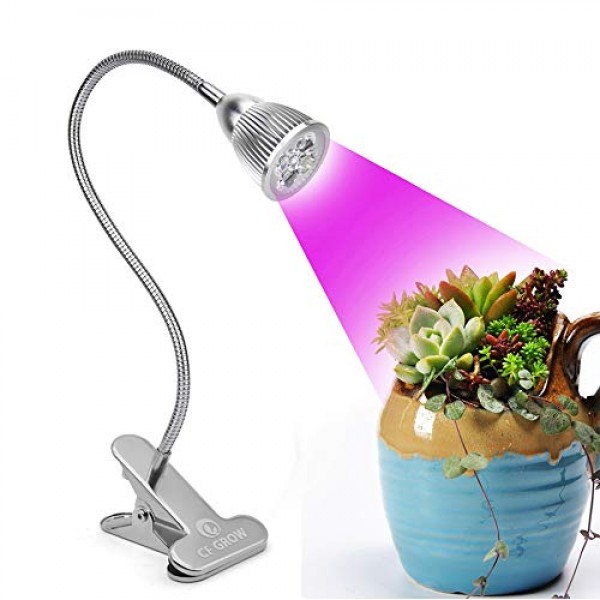 Led Grow Light, CF GROW Desk Clip LED Plant Grow Lamp 5W with 360° Flexible Gooseneck for Indoor Office Home Garden Greenhouse Plants Growing Lighting (5W)
Introduction:
CF Grow Lights helps accelerate the growth of indoor plants. Emits the wavelength of light that
can be fully absorbed by plants photosynthesis, best for blooming, fruiting and promoting the leaf,
can rapidly improve the health of plants.
New Generation Lamp: Improved the head of the lamp, it has thicker and smoother cover than
others. Thicker cover provides better heat dissipation.
Adjustable, Flexible, Gooseneck arm: A flexible, adjustable arm lets you posit the light in any
direction. energy saving, low heat and low power consumption,high luminous efficiency and great
service life
Height: 19 inches, Clamping range up to 2 inches, Suggestion clamping on desk that not thicker
than 1 1/2 inches. Cord length: 53 inches, Off/On switch down the power cord.

Specification:
LED quantity: 5pcs
LED color: red (660nm 2pcs), blue(460nm 2pcs) white (2500k 1pcs)
Power: 5w
Input voltage: AC 100-240V
Lifespan: 35,000 hours
Body material: Aluminum (heat dissipation)
Net weight: 8.9oz/254g
Warranty: 2 years

Application:
Blue light is good for photosynthesis; and help to induce Chlorophyll and Carotenoid, which are
necessary for healthy leaves; Red light is best for blooming and fruits,White light can be used to
ensure the plant has itself's color.


Ideal for all phases of plant growth, and works well with water solution culture and soil culture. Can
be used in house garden, pot culture, garden, sowing, breeding, farm, flower exhibition, bonsai,
garden, green house, sowing,breeding, farm, greenhouse cultivation, water soluble breeding,
greenhouse cultivation, pipeline cultivation and so on


5pcs Bridgelux LED CF Grow LED Clip Grow Light has 5pcs Bridgelux LED, 1pcs White LED 2500K, 2pcs Blue LED 460nm, 2pcs Red LED 660nm. 3Bands designing help your plants grow faster and better in a healthy way by providing extra boost of light.
ADJUSTABLE, FLEXIBLE, GOOSENECK ARM A flexible, adjustable long flexible arm allows you to bend it any way you like and the clamp is strong and secure.
Energy saving aluminum material shell has good heat dissipation, low heat and low power consumption, high luminous efficiency and long service life.
2-in-1 grow light and LED desk lamp CF Grow desk grow light, you can get a lot of use than just getting a gingle grow light, as its versatile design allows it to be used for more than just a grow light! You can use this light as a regular desk lamp also, perfect for indoor office home and other places.
SUITABLE FOR balconies, greenhouses, darkroom, office and so on. Widely apply to the culture solution, gardening, family balcony seeding/ seedling/ breeding, Flower Show, potted plants, especially when the plant needs extra light when raining, snowing, dark indoor, etc.