Clay Printing Stamps Arty Crafty Small Floral Shape Wooden Blocks ...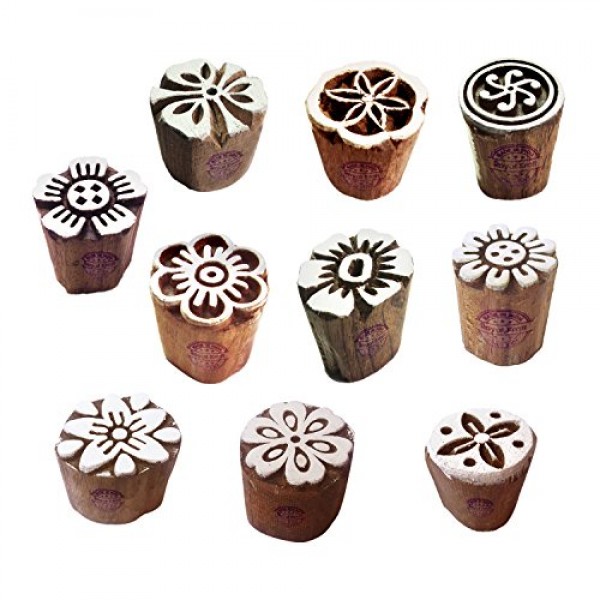 Clay Printing Stamps Arty Crafty Small Floral Shape Wooden Blocks (Set of 10)
PRODUCT USES:
1. Make temporary henna tattoos on palm & hands.
2. Make block prints on fabric, paper, clay, pottery, scrapbook.
3. Make school & college projects and painting homework.
4. Make block prints on fabrics like covers, sheets, clothes.
5. Make drawer knobs & table tops (fitting not included)
HOW TO USE:
1. Layout fabric or paper on foam sheet or sponge board.
2. Spread color on wooden blocks using sponge piece.
3. Place blocks on paper or fabric and apply pressure all over.
KEY POINTS:
1. The consistency of color should not be too thick nor too thin.
2. The color should be evenly spread over the blocks using sponge.
3. Do not expect 100% perfection in achieving design uniformity.
4. Foam, sponge, brush, henna, color or accessories NOT included.
WHY US?
1. Stamps sold by Royal Kraft are new genuine with warranty.
2. We are govt. certified maker and exporter of wooden blocks.
3. We buy raw wood from certified suppliers to make stamps.
4. We sell original wood stamps comply with govt. processes.
5. Check "Sold by Royal Kraft" on product page to buy from us.
SPECIFICATION:
Brand: Royal Kraft
SKU: Htag2101
Known as: Wooden Printing Stamps
Size: Length: 1 to 1 Inches (2.5 to 2.5 cms)
Material: Wood
Item Weight: 114 grams
No. of Pieces: 10
Shape: Assorted
Theme: Small Floral
Audience: Unisex Adult & Children
Uses: Block Print | School Projects | Henna Tattoos
Other Uses: Drawer Knobs | Table Top | Decoration
Gifts for: her him girl boy kids wife women mother father
Occasion: wedding birthday anniversary diwali thanksgiving christmas
Happy shopping with Royal Kraft.
Length: 1 to 1 Inches (2.5 to 2.5 cms)
Make block prints on fabric, paper, clay, pottery, school projects
Make tattoo body adornments | Use as decorative drawer knobs
Foam, sponge, brush, henna, color or accessories NOT included
Royal Kraft Creative Fun Gift Idea for all ages | Read Description for more