Aquatic Experts Classic Koi Pond Filter Pad COARSE - 12 Inches by ...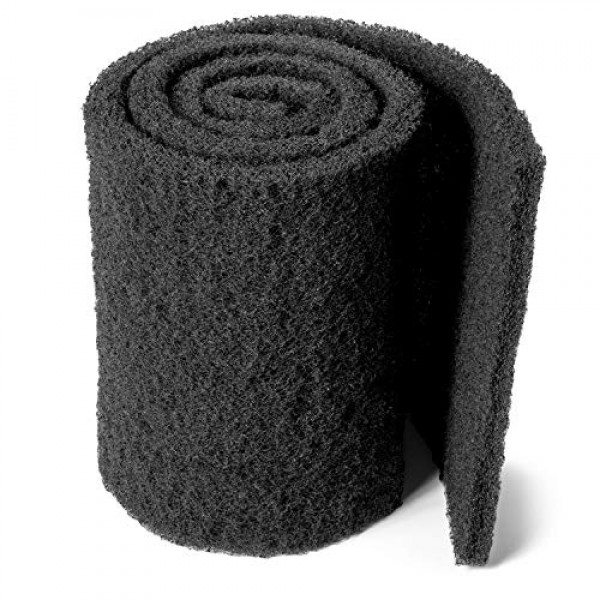 Aquatic Experts Classic Koi Pond Filter Pad COARSE - 12 Inches by 72 Inches by 1 Inch - Black Bulk Roll Pond Filter Media, Rigid Ultra-Durable Latex Coated Fish Pond Filter Material USA
"rigid and rinsed easily" "this pad made a tremendous difference in the clarity of the pond water" "very sturdy material and thick" "lasts a long time" "wish I had known this product years ago" "great product"
Premium Rigid Black Pond Filter Media is custom designed for use in Koi ponds and other outdoor water garden applications. This extremely durable filter media material is lightweight, yet incredibly strong at 1 inch thick. Its interwoven structure is rigid enough to handle the elevated weight and quantity of debris that are associated with an open outdoor pond containing large Koi fish. It filters out the small contaminants to create crystal clear water.
Our custom fiber weave design not only traps unwanted debris, but also provides an immense surface area which is ideal for beneficial nitrifying bacteria. Our Premium Pond Filter Pads are tough enough to resist damage from heavy debris such as sticks and leaves, while still providing a high flow-rate required for oxygenating the large volume of water flowing through the filter systems or skimmer for your ornamental pond. This means healthy pond water conditions, and healthy aquatic plants and animals!
This filtration material is also washable and easy to clean with a garden hose. It can be easily rinsed and reused many times. Our Premium rolls can be cut into sheets to fit any size pond filtration system. Save money buying these bulk Koi pond rolls versus buying pre-cut pads. These unique pond filter mats are proudly made in the USA for Aquatic Experts.
UNIQUE LATEX COATED FIBERS - Provides extra durability and strength to handle the heavy solid waste of outdoor ponds. The pond filter pads' open fiber construction allows for high volumes of water to flow through the pad without premature clogging while producing crystal-clear water.
CUT-TO-FIT AND SAVE MONEY - Buying in bulk saves you money! Simply cut the Rubberized koi pond filter media to the right size you need for your outdoor filtration system. Custom cut-to-fit almost any pond filter, waterfall filtration, circulation system or skimmer.
EXCLUSIVELY MADE FOR KOI PONDS - Our proven fish pond filter pad provides excellent mechanical filtration while providing important oxygenation for your ornamental garden pond.
DURABLE AND REUSABLE - Our Custom Semi-Rigid and Durable Design resists warping, breaking, and tearing caused by leaves, twigs, and sticks. Easy to rinse clean with a garden hose and re-use many times. Perfect pond filters for koi ponds and Water Gardens!
ENVIRONMENTALLY FRIENDLY - Our fish pond filters are completely non-toxic to all fish and other aquatic life. The latex reinforced fiber structure is 100% inert will not interfere with water PH levels. PROUDLY MADE IN THE USA for Aquatic Experts!