Abilitations Large SloMo Slow Motion BumpBalls - 7 To 10 inch - ...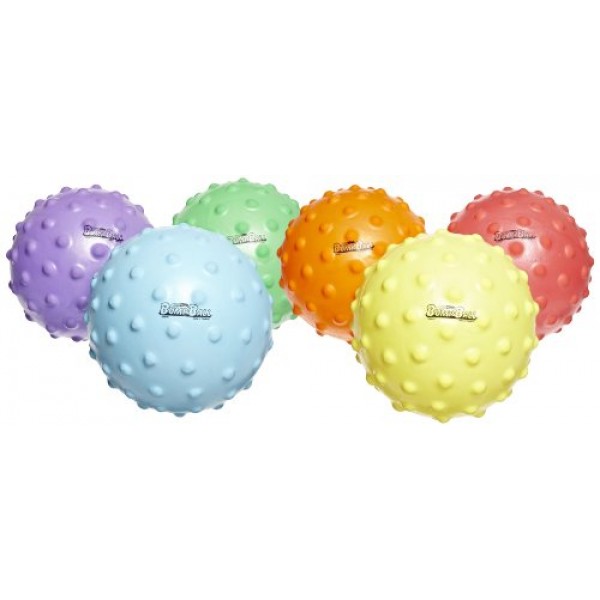 Abilitations Large SloMo BumpBalls have a soft, bumpy surface that helps facilitate catching and grasping. Activities help provide tactile feedback and assist with gross motor skills for children with sensory processing issues, and the balloon-like float of the ball provides more time for eye tracking and a higher level of success. The Large SloMo BumpBall's thin, foam-like walls are flexible and can be blown up with breath alone to any size between 8-1/2" - 10" (22 - 25cm), yet durable enough for rough use. Set contains 6 BumpBalls, one each of the primary and secondary colors.
Special needs products are designed to improve sensory processing, positioning and mobility, fine and gross motor skills, and language and communication skills for students with learning challenges. Sensory processing products and exercises can help the nervous system receive messages from the senses and turn them into appropriate motor and behavioral responses.
School Specialty manufactures and distributes instructional materials and supplies under dozens of brands, among them Abilitations, Think Math, Delta Education, Frey Scientific, Childcraft, School Smart, and Speech Bin. The company, founded in 1959, is headquartered in Greenville, WI.
Activities help provide tactile feedback and assist with gross motor skills for children with sensory processing needs
Soft, bumpy surface helps facilitates catching and grasping
Slow, balloon-like movement allows more time for eye-tracking
Made of vinyl for durability
Thick, foam-like walls allow ball to be manually inflated up to 10" in circumference