Ylang Ylang Essential Oil 30 ml. 1 oz. 100% Pure Undiluted Thera...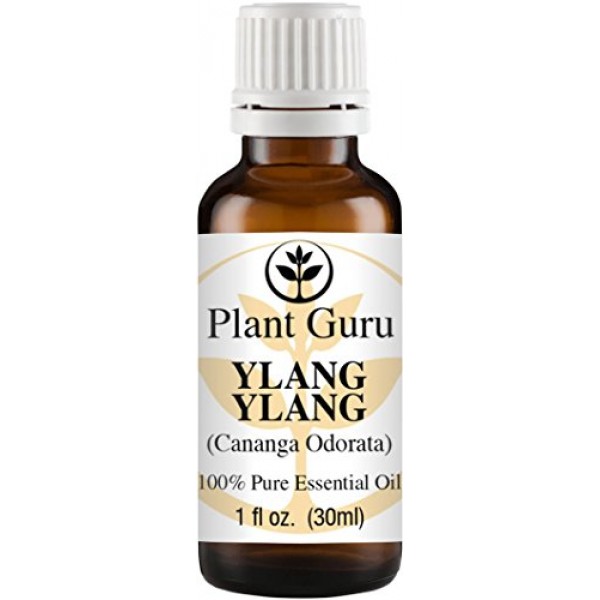 Botanical Name: Cananga Odorata Plant Part: Flowers Extraction Method: Steam Distilled Origin: Madagascar Description: Ylang-ylang Essential Oil is extracted from Cananga odorata - also known as flower of flowers. It is a tall tropical tree about 20meters (60 feet) high with large, tender, fragrant pink, mauve or yellow flowers. The yellow heads are viewed as being the best in terms of quality. There are several grades of Ylang-ylang essential oil which are extracted at different times during the flower's lengthy distillation. These grades are referred to as extra, I, II, & III. This is the third distillation of the oil. Color: Pale to golden yellow clear liquid. Common Uses: Ylang-ylang Essential Oil can assist with problems such as high blood pressure, rapid breathing and heartbeat, nervous conditions, as well as impotence and frigidity. Ylang-ylang Essential Oil is best suited for use in the perfumery and skincare industries. Consistency: Thin Note: Base Strength of Aroma: Medium Aromatic Scent: Ylang-ylang Essential Oil has a sweet, exotic, floral scent that is one of the most sought after aromas. Cautions: Ylang-ylang Essential Oil can cause sensitivity on some people and excessive use of it may lead to headaches and nausea.
Botanical Name: Cananga Odorata
Aromatic Scent: Ylang Ylang Essential Oil has a sweet, exotic, floral scent that is one of the most sought after aromas.
100% Undiluted Pure Therapeutic Grade Essential Oil- no fillers, additives, bases or carriers added.
Plant Guru offers 155 different 100% Pure and Organic essential oils for blending including: Adoration Blend Agar Agarwood Ajowan Ajwain Allspice Ambrette Amyris Angelica Root Anise Star Aniseed Anti-Aging Aphrodisiac Balance Balsam Basil Bay Bergamot Betel Leaf Birch Black Pepper Blood Orange Breathe Cade Cajeput Calamus Root Calming Camphor Cananga Caraway Carrot Cassia Cedarwood Celery Seed Chamomile (German & Roman) Chili Seed Cinnamon Bark Cinnamon Leaf Citronella Fresh Citrus Bliss Clary Sage Cleaning Clove Coffee Copaiba Coriander Costmary Cumin Costus Cranberry Cypress Cyprioli Cubeb Curry Davana Deep Muscle Relief Dill Weed Dragon Rest Earth Wood Elemi Eucalyptus Elecampane Exhale Fennel Fenugreek Fir Needle Frangipani Frankincense French Lavender Galangal Garlic Geranium (Egypt) Ginger Gingergrass Good Night Goldenrod Grapefruit Guaiacwood Harmony Head Ease Helichrysum Hickory nut Ho Wood Hope Horseradish Hydacheim Hyssop Idaho Invigorate Jamarosa Jasmine Absolute Joy Juniper Berry Key Lime Labdanum Ledum Linaloe Eucalyptus Lemon Myrtle Lemongrass Love Mace Mandarin Meditation Melaleuca See Melissa Mentha Mountain Mugwort Mustard Orris Myrrh Myrtle Neroli Niaouli Nutmeg Onion Oregano Palmarosa Palo Santo Paprika Oleoresin Palo Patchouli Peace Penny Royal Perilla Peppermint Peru Balsam Pest Shield Petitgrain Pimento Pine Pink Lotus Premium Thieves Protective (like Doterra & Young Living Purification) Ravensara Red Relaxation Renew Restoration Bulgarian Moroccan Rose Geranium Rosemary Rosehip Rosewood Sage Sandalwood Sensation Spearmint Spikenard Spruce Stay Alert Stress Relief (like Eden's Garden, Plant Therapy, Healing Solutions, Sun Organic, Now Foods, Dr Adorable, Fabulous Frannie, Kiss, Ovvio, Essential Depot, Aura Cacia, Bulk Apothecary, Natures Oil) Styrax Benzoin (OnGuard Diffuser) Sweet Ambiance Sweet Marjoram Sweet Orange Tangerine Tansy Thuja Thyme Tonka Bean Tree Tea Turmeric Valerian Vanilla Vetiver Wintergreen Zedoary and Ylang
Common uses for essential oils: ADHD, anxiety, Acne, Allergies, Arthritis, Animals, Autism, Babies, Beginners, Bath Bombs, Breathing, Body, Bath, Baking, Relaxation, Respiratory, Cooking, Carrier oils, cancer, colds, candles, Candle making, cleaning, calming, cough, children, child, immune system, infants, internal, insomnia, infertility, infections, ultra sonic diffuser, yoga, car, yeast infection, thyroid, teething, toddlers, toes, toe fungus, fungus, skin, child, tinnitus, Health Professional, relaxation, romance, rosacea, respiratory, room, rheumatoid, runny nose, energy, eczema, emotional healing, ear infections, erectile dysfunction, emotions, emotional, weight loss, water, wrinkles, wellness, women, quitting smoking, lip balm making, laundry, labor, lotions creams, body butter, libido, lungs, liver, kids, kidneys, joint pain, joy, hair growth, humidifier, headaches, healing, horses, gum disease, pregnant, germs, germ fighter, gout, focus, face, fertility, fibromyalgia, flu, food, fragrance, diffuser, depression, dummies, dogs, diffusing, diabetes, digestion, dry skin, soap making, sleep, sleeping, stress, migraines, men, maternity, menopause, muscle pain, massage, meditation, natural pet care, nausea, nebulizer, neuropathy, nails, natural hair, vaporizer, varicose veins, vape pens, vapes, voice, roller bottles, case, set, gift, book, kit, pocket reference, aromatherapy, asthma, bath salts, deodorant, detox, eating, feet, itchy scalp, lamps, lamp, mood swings, nerve damage, necklace, oil burner, oil warmer, oral use, oily hair, pets, pms, psoriasis, rosacea, reed, rheumatoid, snoring, sinus infection, thyroid, trauma, trauma, teens, toothpaste.