9w Overdrive T2 Spiral 9W/ODT2 - Pack of 6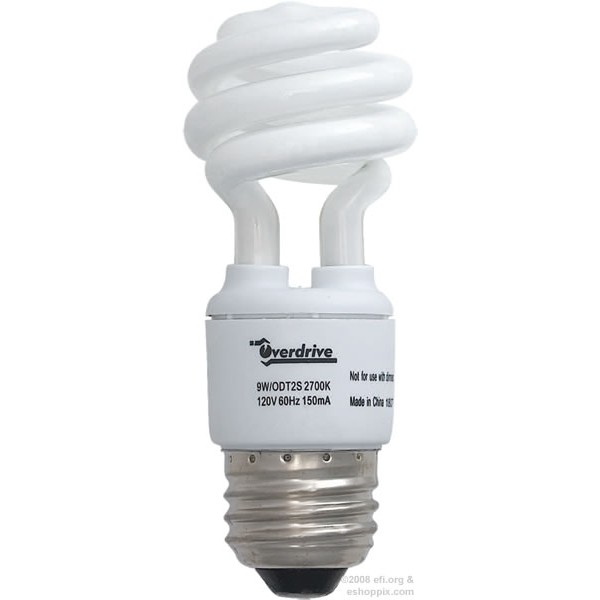 This Overdrive T2 Spiral is extremely compact and a suitable replacement for 40 to 50 watt incandescent light bulbs.
LIGHTING SPECIFICATIONS
Type: fluorescent
Shape: Spiral
Light Output: 550 lumens
Efficacy: 57.8 lm/w
Color Temperature: 2,700 degrees Kelvin
Color Rendering: 80 CRI
Rated Average Life: 10,000 hours
Dimmable: No
Three-way: No
Minimum Start Temperature: -6 degrees Fahrenheit (-21 degrees Celsius)
Maximum Operating Temperature: 120 degrees Fahrenheit (49 degrees Celsius)
Average Mercury Content: 2.5 mg
Base Type: E26 medium screw base
GENERAL SPECIFICATIONS
Input Power: 120 volts AC
Power Consumption: 9 watts
Width: 1.8 inches (40 mm)
Length: 4.0 inches (101 mm)
ENERGY STAR certified: Yes
UL Listed: Yes
Packaging: Paperboard
Manufacturer Warranty: 1 year commercial, 2 years residential
Origin: China
Note that this bulb may have reduced rated life in enclosed fixtures or emergency exit lights,and is not suitable in outdoor locations where it would be exposed to the elements, or in conjunction with dimmers, photocells, or electronic timers. This lamp contains mercury. Please recycle at the end of its life.
Item No EFI-1100.961