Nitric Oxide Supplement with L Arginine, Citrulline Malate, AAKG a...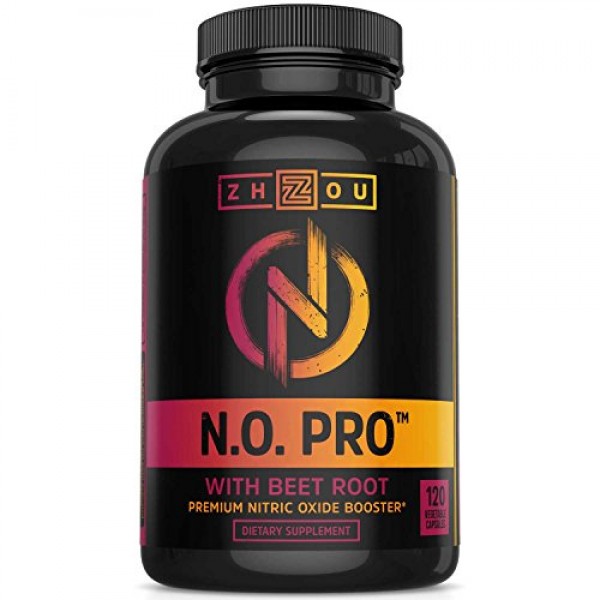 Nitric oxide supplement for intense muscle strength, flow, and endurance. Contains L Arginine, Citrulline Malate, Alpha Ketoglutarate (AAKG) and Beet Root powder to boost N.O. and keep you on your game.
NITRIC OXIDE POWERHOUSE - You know the feeling. The 'PUMP'-- that addictive, euphoric sensation when oxygen and nutrient-rich blood floods your muscle fibers, leading to intense, results-producing workouts that shatter your personal records. N.O. PRO was scientifically formulated to help you maximize energy, strength and stamina during every workout so you never waste a set. Trust us, you'll feel it.
PUMP LIKE A PRO - Whether you're a strength and power athlete, or just looking to finally achieve your personal goals, N.O. PRO can be the secret weapon that truly takes your workouts to a new level. Pro's know how crucial the ingredients in N.O. PRO are to maximizing hard work in the gym, and Zhou Nutrition has combined them into convenient capsules that you can keep in your gym bag. No special scoops or messy powders required.
HOW IT WORKS - A lack of oxygen reaching your muscle cells could be short-changing your workouts. The powerful L-Arginine, AAKG, Citrulline Malate, and Beet Root ingredients in N.O. PRO work synergistically to funnel clean oxygen and nutrient-rich blood straight into your muscle cells. This pre workout fuel kick starts the anabolic process, and means greater endurance and stronger pumps for record-setting workouts. Start rethinking your so-called 'limits'.
HEART HEALTHY - Give your heart some extra 'love' by adding N.O. PRO to your exercise routine. As you may know, a decrease in blood flow can be problematic to the body's most important functions. Often this is due to an unhealthy lifestyle. During exercise, nitric oxide is released into the blood vessels, causing them to expand and improve blood flow throughout the body. N.O. PRO is formulated to accelerate the production of nitric oxide and increase blood flow when (and where) you need it most.
ZHOU'S MONEY BACK GUARANTEE - We're so confident that N.O. PRO will help you achieve the results you've been looking for, that we'll give your hard-earned money back if you're not thrilled with your purchase. Simply contact Zhou Nutrition DIRECTLY for a refund. No tricks, no excuses. Just the best guarantee around.