Yield Lab 96 x 48 x 78 Grow Tent with Viewing Window - for Indo...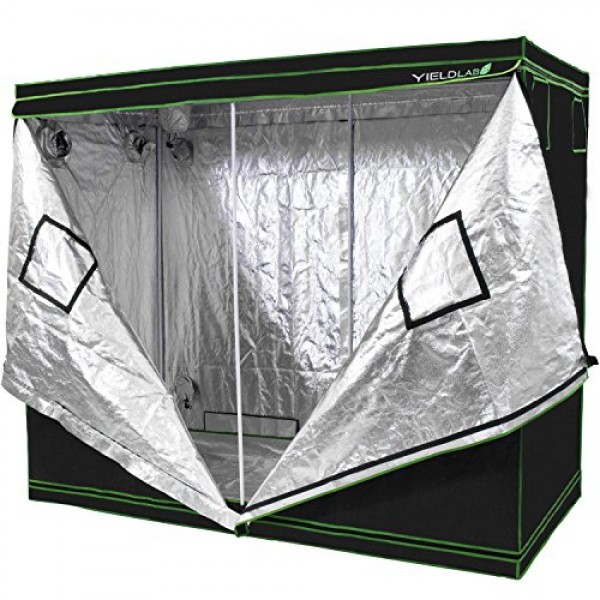 Yield Lab 96" x 48" x 78" Grow Tent with Viewing Window - for Indoor, LED, T5, CFL, HPS, CMH - Hydroponic, Aeroponic, Horticulture Growing Equipment
Constructed from tough oxford cloth, Yield Lab Grow Tents are completely lightproof, tear resistant, and designed for optimal results. Features:
Mylar reflective material: non-toxic, waterproof, and gives your garden 360 degree light coverage
Front bay viewing windows to observe plants without exposing to outside elements
Wide doors, storage pouch
Metal connectors for maximum durability
Exhaust vents for customizable ventilation and circulation
PROFESSIONAL GRADE: These are superior quality tents for all of your growing needs. Create the perfect stable environment with total control over internal temperatures and humidity levels in your garden.
MAXIMIZE YOUR LIGHT: Reflective mylar is waterproof, lightproof, nontoxic, and designed to optimize the light output of your bulbs to flood your grow room with 360 degree coverage.
SEAMLESS AIR CIRCULATION: 4" and 6" dual sided exhaust vent ports circulate air throughout the tent via duct fans. Additional pest-proof vent ports on the bottom allow fresh air into the growing area without mites and other pests entering.
STREAMLINE YOUR GROWING: Viewing windows with Velcro and sturdy Oxford cloth tearaway covers allow you to monitor growth with minimal interruption. Also features wide doors and a convenient, easy-access pouch for tool and nutrient storage.
BUILT TO LAST: The all-in-one connecting tent poles feature built-in metal connectors, rather than inferior plastic, to withstand weights up to 100 pounds.