YADICO 730GPH 2800L/H, 110V/55W Submersible Pump Fountain with R...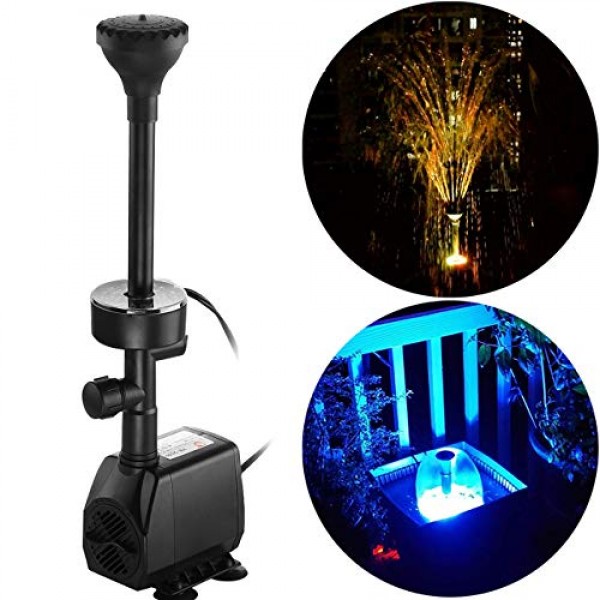 YADICO 730GPH (2800L/H, 110V/55W) Submersible Pump Fountain with RGB Color Changing Ring Lighting Water Fountain Spray Nozzles Kit Multiple Decoration for Garden Pond Indoor and Outdoor Landscape
Are you looking for some ourdoor/indoor fountain assessories to DIY your home-made fountain? This is a MUST have. You can use it to create beautiful decoration for your garden, pond or other indoor and outdoor landscape. Since the pump is detachable, you can use the pump to pump water for garden sparying, this pump and fountain kits are perfect for indoor and outdoor fountains, pond and hydroponic systems.
Features:
-Detachable RGB LED color change light, creating beautiful effect at night
-Fountain kits are made with hight quality ABS material, easy to assemble.
-Completely submersible pump.
-Extremely quiet operation.
-Long lasting wear proof stainless steel shaft.
-Power Saving and durable.
-Safety and corrosion preventive.
-Cable length is 6.2ft.
Specification:
-Flow Rate Max : 730GPH
-Power: 55W
-Maximum lift: 2.6m
User instruction /Notice A clogged or dirty intake screen will generally reduce the performance of the pump. Hence, you must wash away the surrounded debris frequently. If less flow is required, adjust the flow control lever.
Package
-1 Set water pump
-1* RGB led ring
-Blossom, Frothy, Mushroom and Two-Tier Patterns, flow control riser and adapter (as the picture shows)
-1*3/4 inch fitting
-assembly instruction
4 water patterns: Blossom, Frothy,Mushroom and Two-Tier Style
Detachable birght RGB color changing LED light, creating fantastic effect at night. It is very enjoying watching its beauty at night.
Engery efficeiency--Strong magnetic ceramic rotator ensures strong and energy efficiency, it is very powerful.
Maximum flow rate: 730GPH,H-Max (Lift height): 8ft(2.5m), 55W high efficiency motor for energy saving. Designed for reliability and ultra-quiet operation. (Length of power cord: 1.9M=6.2ft)
Wide application--Creating beautiful decoration for your garden, pond or other indoor and outdoor landscape. Circulating the water in your tank to keep the water running, pumping water for garden sparying. This pump is perfect for indoor and outdoor fountains, pond and hydroponic systems