Volumizing Conditioner for Hair Thickening - Natural Hair Growth C...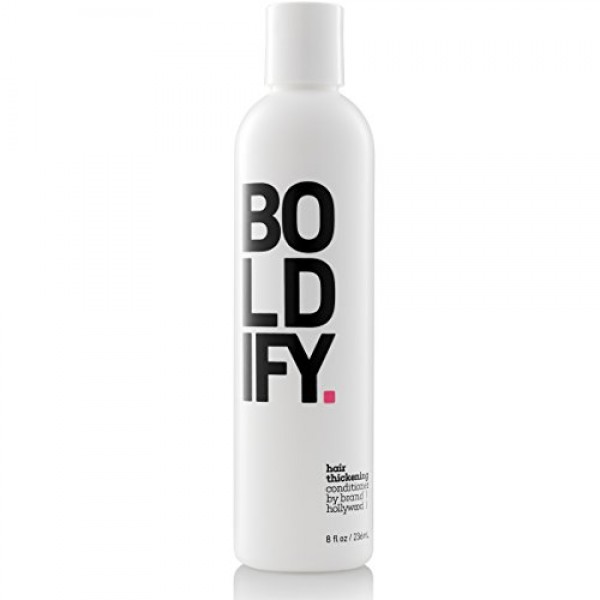 Boldify Hair Thickening
Conditioner makes hair thicker, fuller and more volumized with every use.
Infused with Biotin, a fortifying vitamin with superior hair strengthening benefits.
This nourishing conditioner contains silk protein and Pro-Vitamin B5 which adds shine and extreme conditioning.
Paraben, Sulphate and Cruelty free.
BIOTIN ENRICHED FOR STRENGTHENING
INFUSED WITH VITAMINS AND ANTIOXIDANTS
SULPHATE, PARABEN AND CRUELTY FREE
The Boldify Difference
Packed with Vitamins and Antioxidants for Healthier Hair.
Get inspired with the newest and most versatile hair thickening conditioner around.
Find out for yourself why Boldify has been called the professional stylists secret weapon.
We've taken everything that is lacking from other thickening products and created what we believe is the ultimate hair thickening solution for Women and Men.
WORKS FOR FINE AND THIN HAIR
If you struggle with fine and thinning hair, Boldify is the solution.
It amps up baby fine hair, making it appear thicker and fuller and gives extra volume and body while leaving it flexible and natural looking.
BOLDIFY + BIOTIN = THICKER, STRONGER HAIR
The most important vitamin when it comes to hair growth is Biotin.
It is also known as "hair food" as Biotin increases hair growth and makes hair thick and strong.
BOLDIFY'S Unique blend of Biotin, Pro Vitamin B5 and Antioxidants will help prevent hair loss due to breakage and encourage new hair growth.
Your hair will be volumized, thicker and healthier after every use and improve more and more over time.
GET FULLER STRONGER HAIR: Healthier hair means stronger hair and BOLDIFY'S Vitamin and Biotin infused formula will strengthen and fortify your hair after every use
INSTANTLY THICKENS & VOLUMIZES: Active ingredients will absorb into and thicken the hair shaft after your very first use - Hair will instantly feel thicker and healthier with a noticeable volumizing effect
ENCOURAGES HAIR GROWTH: Packed with minerals and nutrients to promote healthy hair
COLOR SAFE FORMULA - Salon Approved and Made in the U.S.A to the highest standard with no compromises on cost and ingredient quality
NO HARMFUL CHEMICALS - Paraben, Sulfate and Cruelty Free - Never tested on animals