VIVOSUN 10x20.75 Seedling Heat Mat and Digital Thermostat Combo ...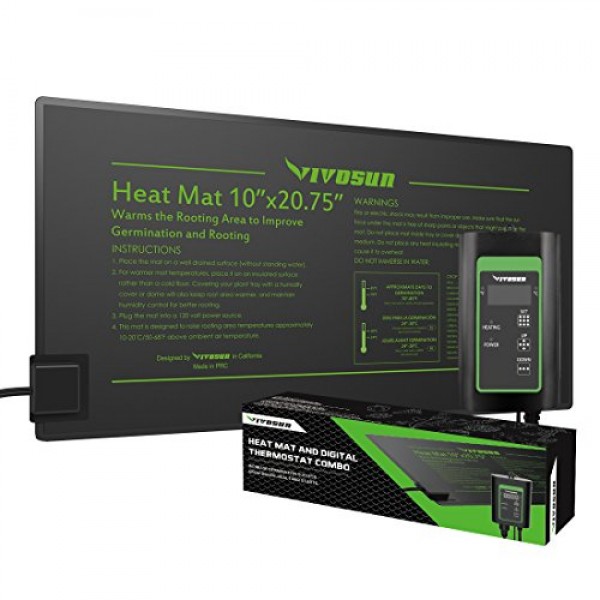 Instructions:
1. Locate a flat, dry surface of the appropriate size for your heat mat.
Avoid cold surfaces, and they will counteract the heating ability of the heat mat.
2. Plug the heat mat's electrical cord into a standard 120-volt outlet.
3. Place a propagation tray or other plant container on the heat mat.
For best results, cover seedlings/cuttings with a humidity dome.
Attentions:
Failure to observe the following safety guidelines may result in fire, electrical shock and/or damage to the heat mat.
1. Never allow the heat mat to become submerged in water or any other liquid.
2. Don't place the heat mat on or under any other heating, warming or insulating device.
3. Don't place the heat mat on rough or pointed surfaces, as this can damage it.
The digital temperature controller device allows gardeners to select and maintain optimum rooting
temperatures for faster seeding or cutting growth.It is compatible with many other heat mats.
Tips:
The Digital Heat Mat is designed to achieve the desired heat temperature within 5 hours.
If it takes longer than 5 hours, or if the mat runs for longer than 5 hours, desired temperatures are
not being reached. To conserve power and increase the mat's effectiveness, move the mat to a
more insulated surface.You can also add a humidity dome to cover the seedling tray, which makes for heat retention.
Note:
The heating mat is warmed by inner heating wires, which is a pure resistance circuit that cannot be caught fire.
Warning 1: Please make sure that heat mat is put flat before plugging in the power cord.
Warning 2: Do Not Immerse Digital Controller in Water.
Seedling heat mat for better plant growth and flower seed germination.
Warms root area 10 to 20 degrees over ambient temperature.
Dimensions: Heat Mat -10"x 20" / Thermostat: 5.25" x 3" x 1.5"
The digital thermostat provides constant optimum temperature between 68-108℉/20-42℃ for your specific crops.
Package Includes: 1 - Heat Mat / 1 - Digital Thermostat