Vitamins Hair Growth SHAMPOO - 121% Regrowth and 47% Less Thinning...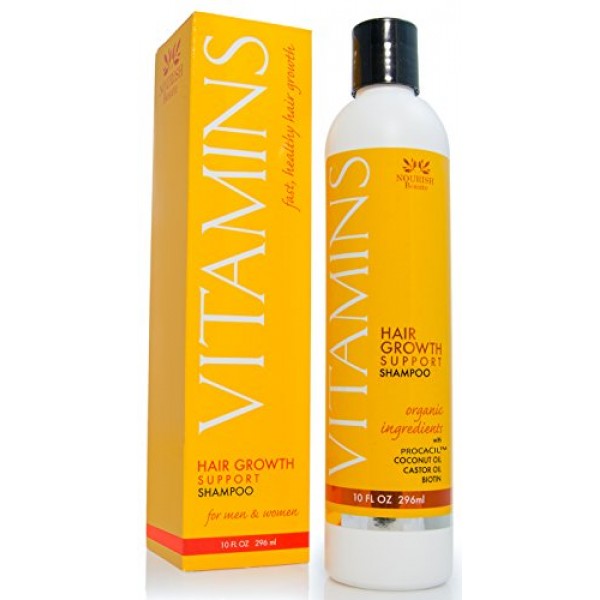 FOR HUGE SAVINGS SEE SPECIAL OFFERS ABOVE
Why do some hair growth shampoos work while others just flat out fail?
Because they don't contain ingredients that CAN work. Others contain drugs and chemicals that come with risks.
However, a safe and effective hair growth shampoo does exist. Consider these facts.
VITAMINS Shampoo contains Procapil-an herbal DHT blocker developed in Europe and clinically proven to:
-Stimulate hair growth by 121%
-Reduce hair loss by 46%
-Increase the time hair remains in the Anagen phase (the Growth Phase)
-Thicken the root sheath to provide better follicle anchoring so you can keep the hair you have
PLUS
-Better Manageability
-More volume
-More body
-Increased shine
-Less thinning
-Healthier hair
Best of all, Procapil is all natural consisting of scientifically formulated Biotin, herbal Oleanolic Acid and Apigenin, derived from citrus, plus coconut oil and castor oil for added growth and retention, as well as thickness, luster and shine.
VITAMINS Shampoo for Hair Growth just plain works for both men and women. We're so confident it will work for you, we are going to let you try it risk free.
Go ahead, buy it now, use the whole bottle and if you're not satisfied let us know and we'll give you your money back!
You risk nothing and you gain everything when you order today.
VERY IMPORTANT-READ THIS
**VITAMINS Shampoo works on contact. To achieve best results, UNINTERRUPTED USE IS RECOMMENDED**
Please note that due to high popularity we occasionally run out of stock. You may wish to consider ordering two bottles as RESULTS WILL LIKELY DIMINISH OR REVERSE WITH DISCONTINUED USE.
Order now and be assured you are using the best hair growth stimulating shampoo available!
Get your confidence back and look younger with thick beautiful hair - Natural VITAMINS Shampoo is scientifically formulated to help stop hair loss and thinning and stimulate regrowth for thick, lush hair. Volumizing biotin and coconut oil revitalize hair while patented ingredients stimulate growth, bringing new life and thickness to your hair.
Go from dry, damaged, brittle hair to healthy, shiny youthful hair. Hundreds of men and women of all ethnicities have gotten results. Customers report dramatic decreases in hair loss followed by new growth within a few short weeks of starting treatment.
Fast healthy natural hair growth. No harsh drugs like Minoxidil, or antibiotics like ketoconazole. Better than Rogaine because its proven to work. In clinical trials, the patented ingredients in VITAMINS Shampoo helped hair grow by 121% and reduced hair loss by 47%.
100% Risk-free Happiness Guarantee. Dr. recommended for hair loss and alopecia.
We Need Your Help - We're a small family owned business and for whatever reason, there is a big corporation that frequently puts 1 star reviews across all of our products. Where you can help is just give your honest, unbiased feedback after using our product to counteract this. Sadly we are not a big company with a team of lawyers to handle this and we'd rather focus our efforts into serving you, the customer.