Vitamin C Facial Cleanser - Anti Aging, Breakout & Blemish, Wrinkl...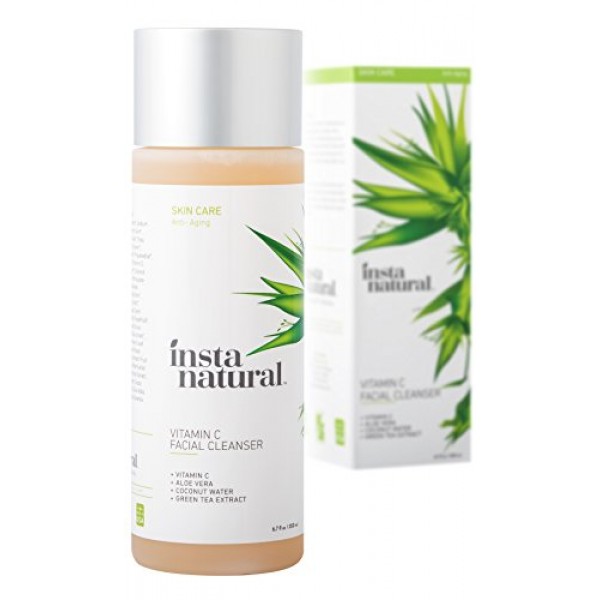 Vitamin C Facial Cleanser - Anti Aging, Breakout & Blemish, Wrinkle Reducing Gel Face Wash - Clear Pores on Oily, Dry & Sensitive Skin with Organic & Natural Ingredients - InstaNatural - 6.7 oz
Rejuvenate your skin with InstaNatural's Vitamin C Cleanser. The advanced formula in this facial cleanser offers maximum benefits for your skin: Refine skin tone and texture Protects against free radicals Prevents signs of aging, such as sun spots and discoloration Hydrates for softened skin Fortifies with antioxidants With InstaNatural, rest assured you will receive the best customer care and highest-quality Vitamin C Cleanser around. Features Natural Ingredients 6.7 OZ bottle for best value Made in the USA Cruelty-free
EXTREME ANTIOXIDANT BENEFITS - With potent antioxidants like Vitamin C, and natural Organic Aloe, this cleanser works for both men and women to rejuvenate and refine the skin. All skin types will see the nourishing benefits of brilliant skin with this professional-grade formula.
BLEMISH DEFENSE - Our Vitamin C Cleanser helps clear and reduce pores, breakouts, and skin blemishes. The ingredients in this cleanser help to wash away dulling skin cells, fade the appearance of sun spots, discoloration, and free radical damage that comes from prolonged sun exposure.
BRIGHTENING ACTION FOR BALANCED COMPLEXION - Penetrating deep to keep the skin hydrated by using a combination of soothing oils and moisturizers to leave the face with a boost of hydration and a clean feel.
EXFOLIATING AGE REVERSAL - Great to use alongside an exfoliating face wash such as our Glycolic Cleanser; these cleansers act as your skin's daily defense and ensure that you see youth restored to the skin anywhere on your body.