VIPARSPECTRA UL Certified 600W LED Grow Light,with Daisy Chain,Veg...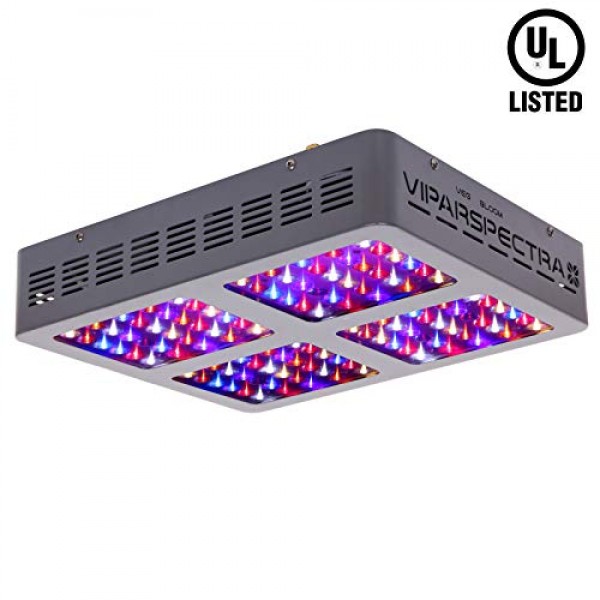 VIPARSPECTRA UL Certified 600W LED Grow Light,with Daisy Chain,Veg and Bloom Switches, Full Spectrum Plant Growing Lights for Indoor Plants Veg and Flower
Welcome to the VIPARSPECTRA V600 LED Grow Light, with optimal full spectrum layout, reflector design and excellent heat dissipation system, is ideal for all kinds of indoor plants veg and bloom at all growth stages.
Design:
- VIPARSPECTRA Spectrum has been developed by indoor growers over many years of careful experimentation and testing. With this light, you will see an increase in quality by growing bigger flowers that are dense and completely coated in resin.
- VIPARSPECTRA Reflector Series are scientifically engineered to keep the balance with high PAR and suitable Coverage. This design will not far too concentrated in the middle of the growing area which results in stunted plant growth and sunburning.
- With excellent heat dissipation system, the light stays cool and very quiet, runs 70% cooler than HID lights.
- Daisy chain feature assists growers to use multiple lights together with less outlet.
Specifications:
- Dimensions: 15.3x12.8x3 inches
- Item Weight: 11.6 lbs
- Replaces a 600W HPS/MH
- Use for all stages grow and flowering
- Vegetative Coverage at 32": 3x3ft
- Flowering Coverage at 22": 2.5x2.5ft
- Avg. Power Draw: 260W±3%
- (120pcs) High Intensity 5W Bridgelux/Epileds LEDs
- LEDs Angle: 90°
- Input Voltage: AC100-240V
- Frequency: 50-60Hz
- Lifespan: 100,000 hours
Package includes:
· 1 x Upgrade V600 LED Lighting
· 1 x User Instructions
· 1 x 6ft Power Cord
· 1 x Hanging Kit
Attention please:
- Extremely bright, do not look directly at the LED bulbs when the light is on.
- Indoor use only, not water-proof.
- This light includes IR (Infrared) LEDs which look dim, they are not faulty LEDs.
- Surrounding temperature: MUST less than 40℃.
- No extra ballast is needed.
- Can be controlled by Timer.
- Please contact us via Amazon message for any questions.
UL Certified Lighting SAFETY is just as important as EFFICIENCY. The V600 as a whole is UL Certified. It meets UL rigorous testings and safety standards to ensure safe operation. Fire-Resistant reflectors strengthens the light penetration, NO DANGER! VIPARSPECTRA is a trusted brand in the lighting industry by providing the best customer care with quality and safe products.
Optimal Spectrum& VEG & BLOOM Switches The secret to VIPARSPECTRA's success is optimal full spectrum lighting which provides plants in all stages from veg to flower with everything they need in the natural sunlight. This results in bigger buds and higher yield all while saving you on energy costs.VEG and BLOOM switches are suitable for each growing phase. Upgraded aluminum cooling heat sinks and advanced high speed quiet fans are great for heat dissipation.
Worry-free 3 Years US warranty We are a professional manufacturer who specializes in LED grow lights for many years. Product quality and professional customer service are always our top concern. We offer 3 Year local warranty and 30 days money back guarantee. If you have any questions, please feel free to contact us. We will offer you professional guidance to help you and your plants grow better.
Daisy Chain Function Daisy Chain feature assists growers to connect multiple lights together with fewer outlets. Each package includes a US power cable, but with a dual purpose of serving as power plug as well as a daisy chain cable. No additional cords is needed, simply plug in the provided power cord into the second light's outlet to connection among multiple units. To ensure safety, each total true wattage of extra connected light must less than 600w, you can maximum link extra 2pcs V600.
Coverage area & Hanging height The 600W LED grow light is perfect for a 3'x3' vegetative coverage at 32"and 2.5'x2.5' flowering coverage at 22". We recommend hanging the light at 28"-40" and running the lights 18 hours per day during the vegetation stage. During the flowering and fruiting stage, hang the light at 18"-24" while running 12 hours per day with both VEG and BLOOM switches. Remember to properly adjust the height of your light accordingly to your plant desired level for optimal growth