90W LED Grow Light for Indoor Plant,SEZAC 180 LED Timin...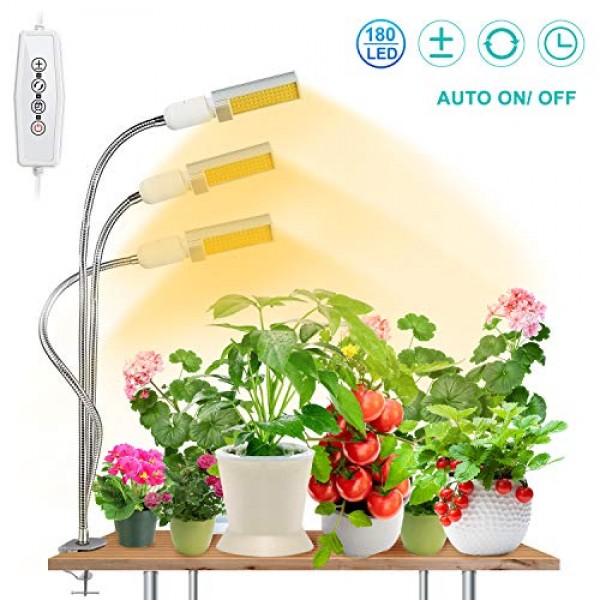 [Upgraded] 90W LED Grow Light for Indoor Plant,SEZAC 180 LED Timing Full Spectrum Plant Lights Auto On/Off with 3/6/12H Timer 5 Dimmable Levels Brightness & 3 Switch Modes (90W 3 Heads Lights)
★ Upgraded Grow Light The purpose is to stimulate plant growth by emitting electromagnetic spectrum suitable for photosynthesis, thereby promoting plant growth, shortening the growth cycle and extending flowering. We have upgraded to a 98W, 180 pcs led grow light. Tests have shown that the LED growth light does help the growth of indoor plants. (# The only designated seller for this product is "SEZAC", please identify the seller "SEZAC")
★ Replaceable Bulbs Easy to replace the bulbs, anyone can remove and replace the bulbs - no experience needed. Simply replace broken/faulty lamps instead of getting a new unit. You can also adjust how much light the left/right light bulbs emit.
★ High-Efficiency Full Spectrum It emits all the wavelengths from 380nm to 780nm - just like natural sunlight, providing similar to sunlight more highly uniform light for plant effectively promotes photosynthesis, increases growth rate, and satisfies plant germination, growth, flowering. It is suitable for indoor plant . It helps to speed up the growth of potted plants, flowering plants, foliage, and succulent plants.
★ 5 Dimmable Modes & 3 Switch Modes The grow lights for indoor plants provides 5 dimmable modes to suit varied stages of plant growth. It adjusts to levels of 20%, 40%, 60%, 80%, and 100% light intensity 3 Switch Modes: One Light On, Two Lights On and Three Lights On.
★ Safty & Guarantee Safe use, FCC, CE, ROHS PSE certified.We promise 120 days Money-Back and provide 18 Months Product Warranty and lifetime friendly customer service. if there is any product issues,please contact us without hesitation.