TopoGrow 315W CMH CDM Grow Light Kit W/4200K Bulb& Horizontal Ball...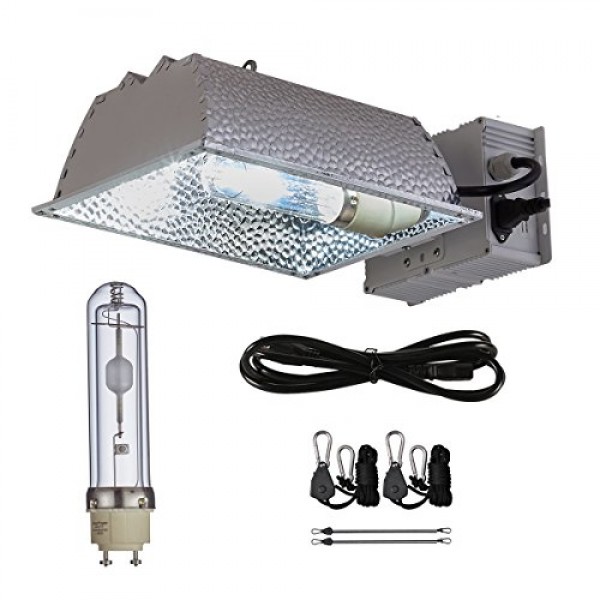 TopoGrow 315W CMH CDM Grow Light Kit W/4200K Bulb& Horizontal Ballast 120V-240V&Enclosed Reflector (315W Enclosed Kit /4200K)
Description:
Features:

Imported German aluminum reflector

Size:18" Long x 9.5" Wide x 10" High
Input 16AWG/3C SJTW 105℃ 300V Cord, 120V 5-15P Plug , L=16FT
Mounting plate: 1.5mm Galvanized sheet with white powder coating.
CDM 315W - full spectrum lamp
PGZX18 lamp holder,4KV
Ideal as both supplementary and standalone lighting
Highly efficient - puts out 1.9 micromole per watt of electricity
Extremely high PAR levels
A blinding intensity that's clearly visable with the naked eye
315W Mini Digital Ballast
Case size: 7.6" (L) 5.10" (W) 2.63"(H)
Super cute and light
Input: 120~240V or 240V / 50~60Hz,
High Power Factor of 95.0%
THD<15%
Crest Factor<1.7
UL/CUL, CE Listed
315w CMH (4200K) bulb
High 1.95 PPF per second light source
4200k color temperature, High 92cri, 33,000 initial lumens (105Lm/W)
High 90% lumen maintenance at 8,000 hr / High 85%
Expected Life Span (hr): 20,000
Unique Open Rated Lamp construction reduces radiant heat from the arc tube
1/8" rope Hangers
Raise and lower light fixture in one simple movement.
Locking mechanism
1/8" rope that supports up to 75 lbs of tension (150 lbs total)
High quality stainless steel latches
Compatible with all parabolic and round reflectors, as long as hooks and locking latch suit.
Perfect for hanging reflectors, light fixtures, carbon filters and ventilation equipment.
Package includes:
1 xreflector with 315w ballast
1 x315w 3000K lamp
1 x pair of heavy duty 1/8" rope hangers / metal hooks
1 xPower cord

315w Ceramic Discharge Metal Halide grow light kit delivers a light spectrum that's much closer to natural sunlight than typical high intensity discharge (HID) systems. A higher temperature creating light much closer to the sun's. Being able to operate more efficiently at higher temperatures means a boost in performance, Coverage area is 4ft*4ft,that means bigger harvest and less cost
Size:18" Long x 9.5" Wide x 10" High,Input 16AWG/3C SJTW 105℃ 300V Cord, 110V, 5-15P Plug , L=16FT
The lamp is optimized for the bloom phase with enhanced reds, but, because it's full-spectrum, it will produce the goods in both vegetable and flower - expect to see increased growth rates, tighter internodes, an improvement in overall vigor and an increase in final weight.
Degradation time: Standard MH bulbs have a lifetime of around 10,000 Hours. Which is less than 50% of the 24,000 Hours that CMH are rated for
Package includes: 1x reflector with 315w ballast(120v plug) /1 x315w lamp /1 x pair of heavy duty 1/8" rope hangers / metal hooks /1xPower cord