TopoGrow 315W CMH CDM Grow Light Kit W/3100K Bulb& Horizontal Ball...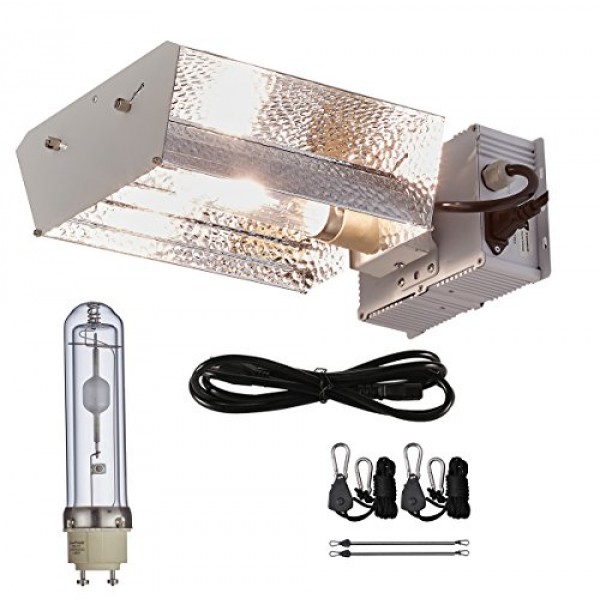 TopoGrow 315W CMH CDM Grow Light Kit W/3100K Bulb& Horizontal Ballast 120V-240V&Open Adjust Reflector (315W Open Adjust Kit /3100K)
reflector with Adjustable angle
Size:18" Long x 9.5" Wide x 10" High
16AWG/3C SJTW 240V 5-15P Plug cord, L=16FT
PGZX18 lamp holder,4KV
A blinding intensity that's clearly visible with the naked eye
Ideal as both supplementary and standalone lighting
Highly efficient - puts out 1.9 micromole per watt of electricity
Extremely high PAR levels
Suitable for PHILIPS GreenPower CDM-T Elite Agro 315W Lamps
315W Mini Digital Ballast
Case size: 7.6" (L) 5.10" (W) 2.63"(H)
Super cute and light
Input: 120~240V or 240V / 50~60Hz,
High Power Factor of 95.0%
THD<15%
Crest Factor<1.7
UL/CUL, CE Listed
315w CMH (3100K) bulb
High 1.95 PPF per second light source
3100k color temperature, High 92cri, 33,000 initial lumens (105Lm/W)
High 90% lumen maintenance at 8,000 hr / High 85%
Expected Life Span (hr): 20,000
Unique Open Rated Lamp construction reduces radiant heat from the arc tube
1/8" rope Hangers
Raise and lower light fixture in one simple movement.
Locking mechanism
1/8" rope that supports up to 75 lbs of tension (150 lbs total)
High quality stainless steel latches
Compatible with all parabolic and round reflectors, as long as hooks and locking latch suit.
Perfect for hanging reflectors, light fixtures, carbon filters and ventilation equipment.
Package includes:
1 xreflector with 315w ballast
1 x315w 3000K lamp
1 x pair of heavy duty 1/8" rope hangers / metal hooks
1 xPower cord

315W Adjust Reflector: Size:18" Long x 9.5" Wide x 10" High, 16AWG/3C SJTW 120V 6-15P Plug cord, L=16FT, Highly efficient - puts out 1.9 micromole per watt of electricity, Extremely high PAR levels
315W Mini Digital Ballast: Case size: 7.6'' (L) 5.10'' (W) 2.63''(H), Super cute and light, Input: 120~240V or 240V / 50~60Hz, THD<15% Crest Factor<1.7 UL/CUL, CE Listed
315w CMH (3100K) bulb: High 1.95 PPF per second light source , 3100k color temperature, High 92cri, 33,000 initial lumens (105Lm/W) , High 90% lumen maintenance at 8,000 hr / High 85%, Expected Life Span (hr): 20,000
315w Ceramic Discharge Metal Halide grow light kit delivers a light spectrum that's much closer to natural sunlight than typical high intensity discharge (HID) systems
Package includes: 1x reflector with 315w ballast/ 1 x315w lamp /1 x pair of heavy duty 1/8" rope hangers / metal hooks/ 1xPower cord