Wire Stripper, Uvital Electrician Automatic 3 in 1 Wire Stripping ...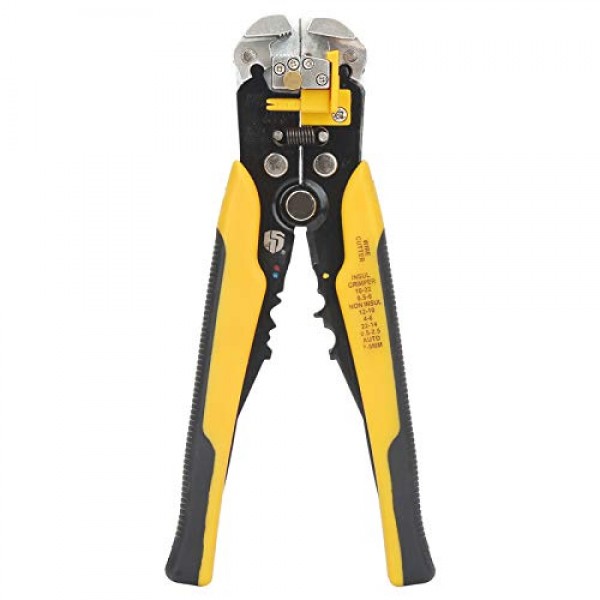 Wire Stripper, Uvital Electrician Automatic 3 in 1 Wire Stripping Pliers, Cutting, Crimping 24-10 AW/ 34-3 Gauge/ 0.2-6 mm, 8 Inch Self-adjusting, Multi-Function Hand Tool
Careful craftsmanship, convenient and durable Surface electrophoresis process, cold rolled steel stamping tongs, heat treatment of crimped joints, surface spray treatment
Simple and fast, convenient and practical Stripping + tangent + crimping After stripping the wire, the wire end can be cut, and then the terminal is pressed.
The pliers handle is small and effortless PVC material handle, pliers handle is made of PVC material, absolutely green and wear-resistant, comfortable grip. thermoplastic rubber can absorb the reaction force from the grip to our hands, which can greatly increased comfort and reduced hand fatigue.
Self-adjusting Cable Cutter Self-adjusting jaws ideal for copper and aluminum cables from 10-24AWG (0.2-6MM2). Thumb wheel micro adjusting swivel knob to strip wire smaller than 24 AWG. Strippers will not damage the metal part of the electrical wire. You can adjust the knob appropriately according to the size of the wire to ensure that the wire stripper has the most suitable tension to strip the cable protective jacket.
Warranty and guarantee We provide 30 days worry free refund, 180 days replacement, 24 hours customer friendly service.