Hammer Multi Tool 12 in 1 Hammer Camping Gear Survival Tool Christ...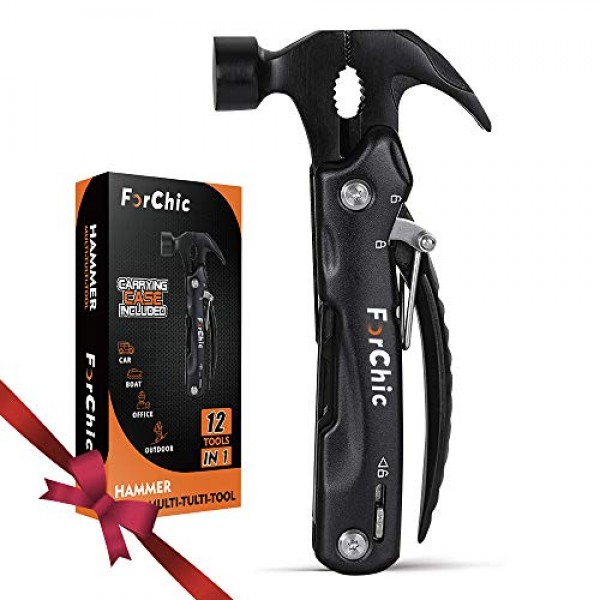 Hammer Multi Tool 12 in 1 Hammer Camping Gear Survival Tool Christmas Birthday Gift for Men, DIY Handyman, Father/Dad, Husband, Boyfriend, Him, Women
????All in One Tools: 12 in 1 tool gifts including Mini Hammer, Nail Claw, Pliers, Regular Pliers, Wire Cutter, Knife, Saw, Serrated Knife, File, Flathead Screwdrivers, Phillips Screwdrivers,Bottle Opener, Carabiner more with a Safety Lock, and Durable nylon carrying case with belt holster.
????High Quality Desigh: Stainless Steel construction Multitool Hammer is a must-have addition to anyone's camping gear and equipment, feels great in your hands without the heavy weight of more expensive tools.
????Heavy Duty Ergonomic and Lightweight: Must-have EDC multi tool, Ideal for camping, home renovation, DIY jobs and a great multitool hammer! Can cut, pry, hammer a nail,twist the screw, open fire hydrant, saw wood, strong enough to shatter the glass curtain wall, cut the rope curtain in a dangerous escape etc.
????Cool Unique Gift: Whether Christmas holiday, Father's Day, birthday or anniversary, this Personalized gifts will brings happy to the person you give.
????Customer Service: Quality and Customer Satisfaction are our top priorities. If you are not satisfied, no reason return policy to guarantee you the BEST purchase experience.