DALSTRONG - Premium Whetstones - Extra Large Grit Stones - Top-Gra...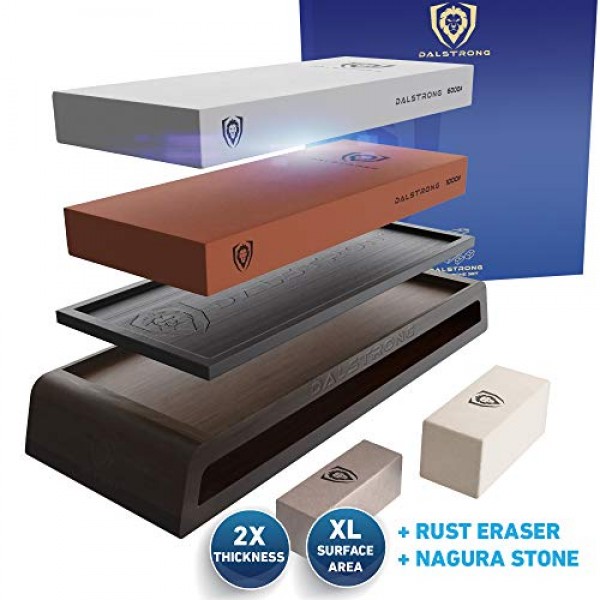 DALSTRONG - Premium Whetstones - Extra Large Grit Stones - Top-Grade Corundum - Thick - Ultra-Durable… (#1000/#6000 Grit Premium Whetstone Kit)
The Ultimate, Premium Whetstone Sharpening Kit: Trusted Dalstrong award-winning craftsmanship, awe-inspiring design and handcrafted with the absolute best materials available. Protect your investment by ensuring proper maintenance and sharpening of your blades with the Dalstrong Premium Whetstone Set. Peak performance never looked so good to you or your wallet.
Unrivalled Performance: Offering two individual, whetstones for precision sharpening, constructed of top-grade corundum (aluminium oxide). Larger, thicker, over-sized stones for increased surface area, and a better investment to guarantee that your cherished knives maintain their long-lasting scalpel-like edge and remain in peak performance.
Included #1000 grit stone is your all-purpose stone to sharpen dull or damaged blades, and a #6000 to return that mirror polish and screamingly sharp edge to your blade. ideal for sharpening both German and Japanese style knives, scissors and other bladed tools. Handcrafted Acacia wood base serves as a level surface to hold your stones in place as you sharpen, and as a convenient base for easy storage.
Incredible Value: Included Nagura flattening stone acts as a conditioner for both the sharpening and finishing stone. For quick cosmetic touch-ups to the surface or face of your knife, to rub away any corrosion or scuffs that can build up on high-carbon and stainless steel knives–keeping your blades looking new and hygienic.
Dalstrong Trust: Rock solid 100% SATISFACTION OR MONEY BACK GUARANTEE, try it risk free. LIFETIME WARRANTY against defect. Renowned Dalstrong customer service. See why chef's around the world trust and love, 'The Dalstrong Difference'. Dalstrong luxury packaging. Now you are slicing with POWER. Dalstrong POWER!