APOLLO TOOLS Ergonomic Stainless Steel, Lightweight, Foldable Pink...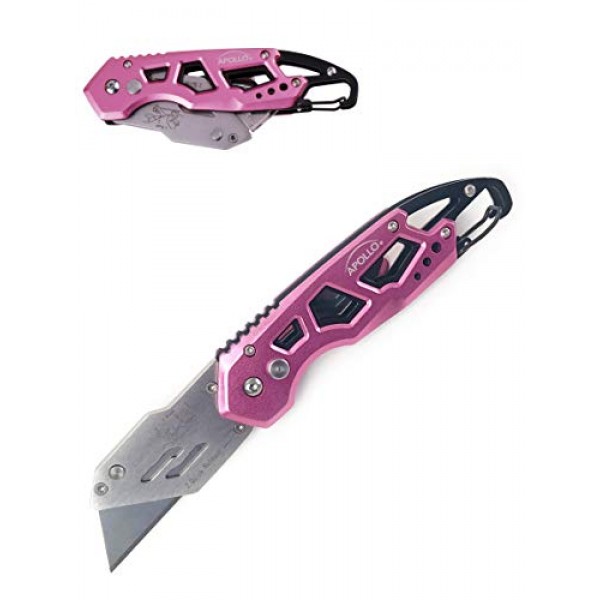 APOLLO TOOLS Ergonomic Stainless Steel, Lightweight, Foldable Pink Utility Knife with Carabiner Clip and Fast Blade Change for Box Cutting, DIY Tasks and Crafts - Pink Ribbon- DT5017P
ERGONOMIC AND ANTI-SLIP GRIP. Improved version of our highly popular foldable utility knife in pink. Designed it for strength but lightweight, this pink utility knife is easy-to-fold, and easy-to-open. It has a lock feature, a carabiner clip and a belt hook. The light-weight ergonomic design ensures ease of use with minimal strain on the hand.
COMPACT AND FOLDABLE Folds easily and fits in your pocket for quick retrieval. 7 inches long when open, 4. 5 inches when closed. Pocket clip and carabiner make it easy to carry around.
QUICK BLADE CHANGE Technology. Easy release feature designed to change blades in a snap. Replacement blades are easy to find. Directions for changing the blade are engraved on the knife, so you always have instructions when needed. Easily clips and unclips on your belt, bag, etc.
STEEL CONSTRUCTION with Light-Weight Frame. Our new pink foldable utility knife combines strength and durability with multi-use. Sleek, ergonomic, light-weight, the knife features an easy blade switch mechanism, a carabiner clip and a hook. It comes in an attractive metallic pink color.
EASY TO USE AND OPEN. No unnecessary complications: Unlike many on the market, this utility knife is easy to lock into open and close positions with the push of one button.
PINK RIBBON. Breast Cancer Commitment: Apollo Tools, LTD is donating $0. 25 from this purchase to the Breast Cancer Research Foundation. BCRF's mission is to advance the world's most promising research to eradicate breast cancer in our lifetime. For more information about BCRF, visit bcrfcure. org.