The Andersons Humic DG Granular Soil Conditioner - Humic Acid Gran...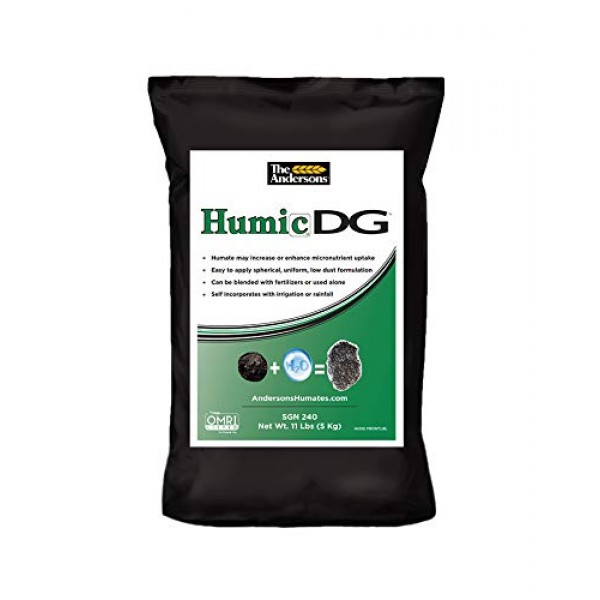 The Andersons Humic DG Granular Soil Conditioner - Humic Acid Granules - 11 lb bag
HUMIC is a naturally occurring part of soil organic matter. HUMIC DG applies essential carbon and Humic substances which are key to soil health and plant growth. HUMIC DG contains three primary Humic substances –humic acid, fulvic acid and humin that act like building blocks for soil organic matter. These three basic components provide carbon as an essential element for healthy soil microbial activity and optimal plant growth. They improve the plant's ability to take-in nutrients, including unlocking existing nutrients form the soil, and make them available to the plant for a longer period of time. The Andersons Humic DG is especially effective on sandy soils due to increasing CEC (cation exchange capacity.) As a homogenous prill granule, our product is easy to handle and spread. The humic acid granules were designed by a patented DG process that is activated by moisture to disperse the granules. This increases surface area exposure and ensures quick incorporation into the soil.
FAQ
Can Humic DG be considered for use in an organic or sustainable garden or vegetable patch?
Yes! HUMIC DG is a great fit for organic or sustainable gardening. HUMIC DG is OMRI Listed and is a naturally mined product.
How does Humic DG compare to other liquid or dry Humic acid products?
The Andersons Humic DG contains 70% activated Humic acid. This is a highly concentrated Humic acid product. The patented preparation process allows HUMIC DG to be applied at 25% of the rate required for granular screened humates. At recommended rates, Humic DG can apply 3.5x more active Humic acid and a complete range of Humic substance compared to liquid products in market.
Carbon soil amendment - increases soil carbon and soil organic matter
Highly concentrated 70% humic content (A&L method). Feeds beneficial soil microbes by providing a key food source, carbon
Chelates nutrients to increase nutrient and fertilizer efficiency; increases nutrient absorption
Improves seed germination, root mass, root vigor and overall root and plant health
Environmentally friendly, OMRI listed. User friendly; can be blended with fertilizers or used alone