TeraGanix EM-1 1 Gal. - Natural Organic Microbial Inoculant - Pl...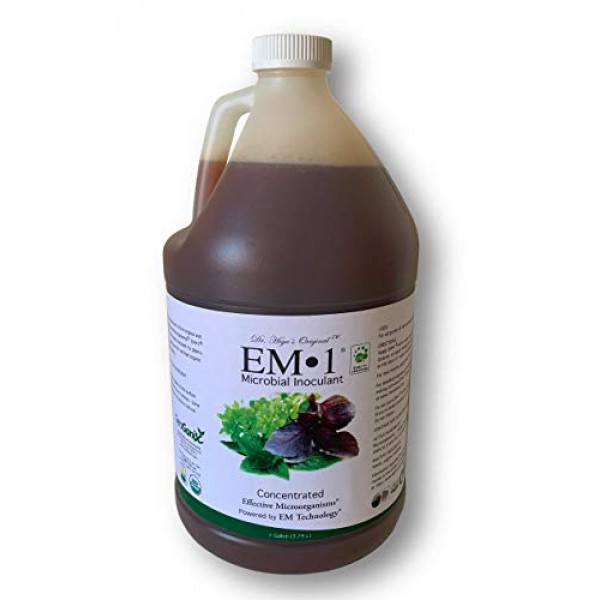 TeraGanix EM-1 (1 Gal.) - Natural Organic Microbial Inoculant - Plants and Soil | Nontoxic Active Probiotic Conditioner For Lawn Care | Eliminate Foul Odors and Improve Water Quality
Here's How You Can Improve Soil Quality & Promote Plant Growth Naturally!
Looking for a premium-quality all-natural microbial soil inoculant for your plants, flowers or trees? Want to improve water quality in your water pond, river or aquarium? Need a powerful and non-toxic soil conditioner?
Discover Em-1 – The Ultimate Organic Probiotic For Your Plants & Soils By Teraganix!
EM-1 is the original and authentic Effective Microorganisms formula developed by Dr.Teruo Higa in the 1960's and has been the go-to probiotic for plants and soil for more than 50 years. Gardeners and farmers all over the world prefer our natural microbial inoculant, since it is 100% safe and beneficial for all kinds of plants, trees, shrubs and flowers.
A Must-Have Probiotic For Every Gardener!
Unlike other lowquality plant probiotics formulas, the EM-1 contains a minimum of 1.000.000 naturally fermented, colony-forming units of Lactic Acid bacteria that will effectively and actively help:
•ENHANCE WATER QUALITY
•ACCELERATE COMPOSTING
•IMPROVE SOIL STRUCTURE & DRAINAGE
•ELIMINATE FOUL ODORS (SMOKE, PETS, DRAINS, GARBAGE ETC.)
•CONDITION SOIL FOR ORGANIC LAWN MAINTENANCE
•CLEAN WITHOUT ANY HARSH TOXIC INGREDIENTS
For Healthy, Strong, Beautiful & Blooming Plants!
If you are looking for a natural, tested and proven way to keep your plants and flowers healthy and blooming, then you should look no further.
The TeraGanix advanced EM-1 natural probiotic formula for fertilizers will help improve the natural concentration of nutrients in your soils and as a result, keep your flowers and trees healthy and strong.
What Are You Waiting For? Click "Add To Cart" & Get Your Em-1 Organic Soil Probiotic 100% Risk-Free!
THE BEST ALL-NATURAL ORGANIC PROBIOTIC FOR YOUR PLANTS AND SOIL is finally here to improve texture and drainage for soils, while promoting growth for your plants, flowers, trees, shrubs, and garden.
IMPROVE WATER QUALITY IN YOUR PONDS AND AQUARIUMS with our non-toxic and safe EM-1 microbial inoculant. This non-GMO and easy-to-use probiotic inoculant will effectively enhance water quality thanks to its effective live microorganisms.
OVER 1 MILLION COLONY-FORMING UNITS OF LACTIC ACID BACTERIA will help eliminate foul odors (pet, smoke, garbage or paint smell) while conditioning your soil for organic lawn care.
SUPER-EASY TO USE MICROBIAL INOCULANT FOR ALL YOUR GARDEN NEEDS. All you have to do is follow the simple instructions, mix our excellent compost starter with clean water and improve your plants, soil, and water quality.
EFFECTIVE SOIL CONDITIONER that will enhance soil structure, improve root growth and development, and seed germination.