Southern Ag 2,4-D Amine Weed Killer Selective Broadleaf Weed Contr...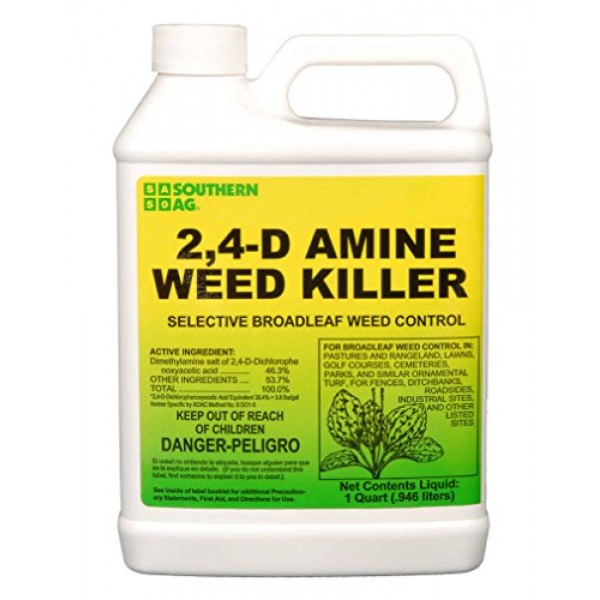 2,4-D AMINE WEED KILLER • Low, economical use rate of 1 to 4 pints per acre • Controls many broadleaf weeds & woody plants • Use in turf, pastures, rangeland, ditch banks, fences... CONTAINS: 3.8 lbs. per gallon 2, 4-D acid equivalent liquid concentrate in a low volatile amine form. USE ON: Certain grasses in lawns, parks, golf courses, and pastures; fences, ditch banks, non-crop sites, small grains, and corn (pre and post emergent herbicide) CONTROLS: Many broad-leaf weeds. See list on label. RATE: 2- 3 tbs. in 3- 5 gallon of water to cover 1,000 sq. ft. APPLICATION: Apply as a coarse low pressure spray, preferably with fan type nozzle. CAUTION: SPRAY TO ACCURATELY OBTAIN INDICATED COVERAGE WITHOUT OVERLAP. AVOID DRIFT TO SUSCEPTIBLE PLANTS.
Selective Broadleaf Weed Control
For use in pastures & rangeland, lawns, golf courses, cemeteries, parks,& similar ornamental turf.