Solar Royal 25Watt - Premium Solar Gable Ventilation Fan with Thermostat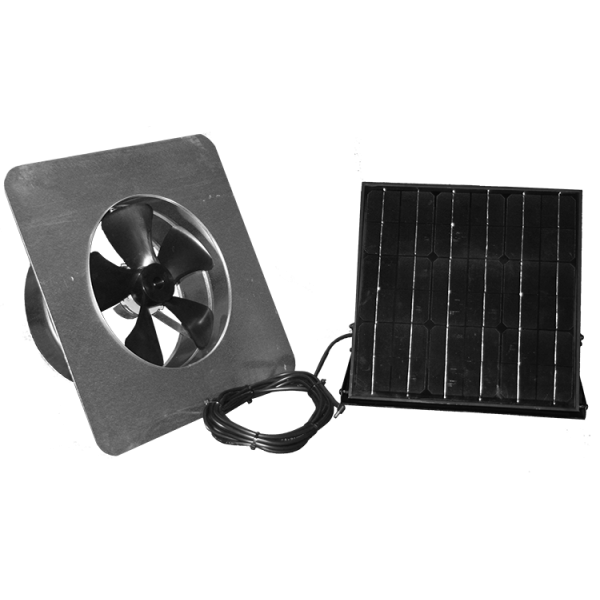 SOLAR ROYAL Solar Gable Ventilation Fan 25W Mono Panel
The Solar Royal product was developed, designed and engineered in the USA to address all the missing features and limitations within the current marketplace offerings. Whether you're trying to ventilate your attic, shed, multi-family dwelling, garage, barn, livestock pins, commercial spaces, etc… You have found the smartest solution for your solar attic fan (solar powered ventilation) needs.
Benefits of Ventilation
Converts passive ventilation to active.
Extends the life of your roof and AC.
Reduces moisture which reduces mold & mildew.
Increases air exchanges (per hour).
Reduces HVAC costs & cooling cycles.
Windstorm Certified & Tested (ASTM-E330)
Lifetime warranty available.
No cost to operate.
Qualifies 30% Federal Rebate program (unit & installation)
Extreme Weather Ready w/: (Aluminum components w/ stainless steel fasteners)
Specifications
Up-to 1500CFM ventilation capacity
High efficiency monochrome solar panel (18V, 1.39 amp)
12 inch/5-blade 'TurboPro' styled custom nylon/polymetric blade and balanced hub.
Brushless 6-24 VDC motor
20' weather-resistant power extension cable
Separated flat surface mounting kit for solar panel

Warranty
Lifetime Warranty Upgrade: *Limited lifetime warranty service package available online. (for registered residential)
Residential & Commercial 15 yr *Motor, solar and housing
First in a series of new products, solar attic fan is engineered not only to perform in extreme weather, but offers patent-pending innovation not previously available in the market. The product line is designed for use in virtually any residential, commercial and utility application. Solar Royal has a incredible product road-map planned, which includes: risers, extenders, curb bases, R9 panel bases, metal roof bases, etc. Watch our site for the latest products in development.
Item No SRGF-2503