SoCozy Boo! Spray Scares Away Lice… Naturally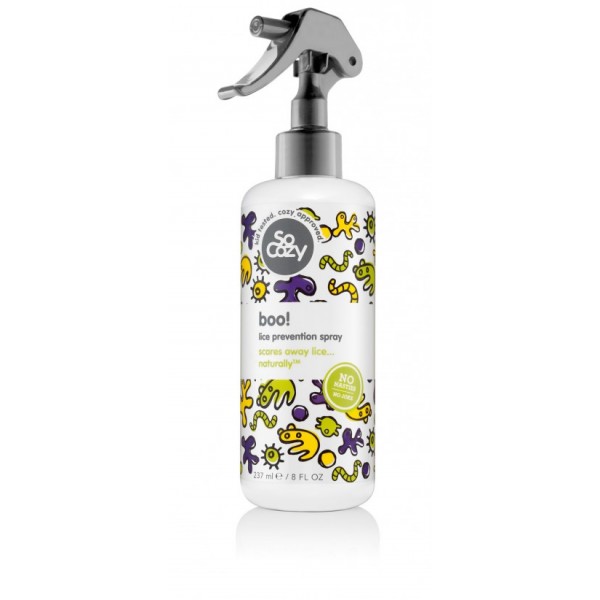 Commit to this fresh scented, lice scaring spray and the little buggers want nothing to do with you. Non-sticky formula maintains the look and feel of hair without any mess or fuss. Infused with tea tree oil, a natural and powerful lice repellent. Safe and gentle enough for everyday use. A fright for lice, a big relief for you.
So Good: Zero fragrance, just the fresh, clean, pleasant scent of natural ingredients: peppermint, rosemary and lavender.
So Easy: To help prevent lice, generously spritz onto wet or dry hair daily. Apply more around nape of neck and behind ears—the spots lice like most. For best results, use with Boo! Lice Prevention Shampoo.
Ingredients
So Smart: Tea Tree Oil – One of the most effective natural ingredients demonstrated to prevent lice. Rosemary Extract – A natural plant extract that repels lice; rich in vitamins to promote healthy hair and natural shine. Keratin – Protects hair, helps to increase hair strength and minimize damages caused by brushing and overuse of accessories like barrettes and elastic bands. Peppermint Oil – Moisturizing and works as an astringent to prevent buildup plus aids in hair growth. Lavender Flower Extract – Calms and soothes skin. Aloe Barbadensis Leaf Extract – Moisturizes and soothe hair, scalp and body.
So Safe: Non-Toxic, No Parabens, Sulfates, Phthalates, Synthetic Color, Propylene Glycol. Free of Gluten, Wheat and Nuts. No Nasties Here!
Tips
Cozy Says: Tea Tree Oil is most effective at repelling lice, even more effective than Deet. Tea Tree Oil is a natural antiseptic and repels the same way that Citronella works to repel mosquitoes.
Item No Boo-502