SKYTOU Pottery Wheel Pottery Forming Machine 25CM 350W Electric Po...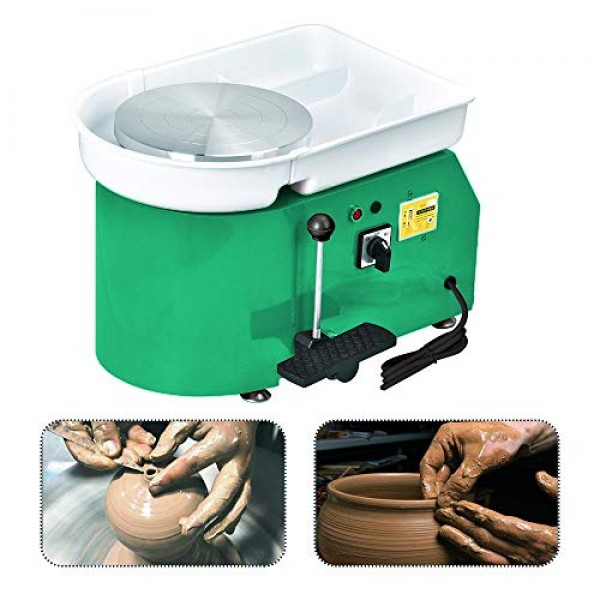 SKYTOU Pottery Wheel Pottery Forming Machine 25CM 350W Electric Pottery Wheel with Foot Pedal DIY Clay Tool Ceramic Machine Work Clay Art Craft (Green)
This small professional ceramic wheel machine is specially suitable for school teaching and pottery DIY shop, 
satisfying both professionals and enthusiasts. Suitable for pottery processed including throwing and shaping. 
Convenient Foot Pedal 
Foot pedal equipped for more agile operation, free to adjust rotary speed as you wish, 
giving you much more freedom to play with mud. Large bearing surface provides much comfort and enriches flexibility while using.
25 cm Diameter Wheel 
Adopts aluminum alloy wheel with large diameter of 25 cm (9.8"), allowing users to draw large pieces with ease.
Enclosed design prevents mud from eroding and penetrating into the fuselage.
ABS Removable Basin 
Easy to clean. The basin has two small grids, which make it easy to put small tools and water needed for making ceramics.
8 Piece Pottery Clay Tool Kit 
This high quality tool kit contains: 
1PC Metal Scraper
1PC Wood Scraper
1PC Absorbent Sponge
1PC Double-head Billet Trimmer
1PC One Head Billet Trimmer
1PC Needle Point
1PC Mud Cutter
1PC Double-ended Clay Knife.
Package Content: 
1 x Pottery Wheel Ceramic Machine
8 x Pottery Clay Tool Kit 
1 x Instructions
❤ GORGEOUS & PRACTICAL : CE Certificate Fancy appearance plus bright color, this pottery wheel machine owns a sufficiently large plate of 25 cm (9.8") in diameter. Machine body is of spray treatment with humanized design and outstanding details, provides you with a more enjoyable mood.
❤ HIGH QUALITY : Compact structure, small footprint, good mud shielding. Easy cleaning ABS Removable basin is adopted as well. We also provide a set of shaping tools for carefree working process. Saving your cost and energy.
❤ SAFE PROTECTION DEVICE : Single-phase three-wire connection with earth leakage protection device for safe and reliable operation. Advanced high-quality brushless motor enables a rotary speed of 0-300 rpm. Operates stably whereas of low noise.
❤ FLEXIBLE OPERATION : Handle and foot pedal equipped. Wheel rotates smoothly with low noise and its rotation direction can be switched clockwise or counterclockwise.
❤ WIDELY USE : The Ceramic Molding Machine is able to perform throwing and shaping processes. Suitable for school teaching, pottery bar and home use, etc. Able to meet the majority of both professional and amateur ceramic enthusiasts.