LED Grow Light, Plant Grow Lights for Indoor Plants Full Spectrum ...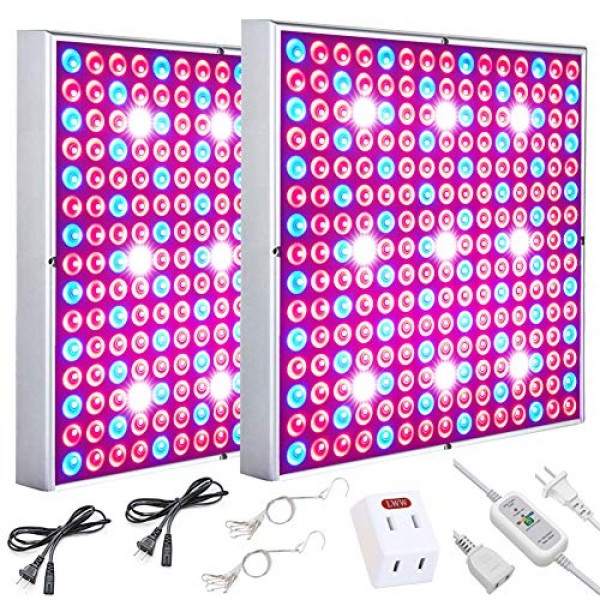 LED Grow Light, Plant Grow Lights for Indoor Plants Full Spectrum 75W Panel Growing Lamp with Timer for Seedling Veg and Flower by Skylaxy (2 Pack)
Skylaxy LED Grow Lights for Indoor Plants with Timer, 75w Plant Grow Light Full Spectrum Plant Lamps Red Blue White for SeedlingSpecifications:
LED Power: 75W
LED Qty: 225pcs
Input Voltage: AC85-265V
Frequency: 50/60Hz
Spectrum: 156 red + 60 blue +9 White
Dimension: 12.2''x12.2''x1.4" / 310x310x35mm (L x W x H)
N.W.: 3.6lbs (2pack)
G.W.: 4lbs (2pack)
Packing Size: 14.2''x13''x3.4''/ 360x330x85mm (2pack)
Shell Material: ABS with Coating
Lifespan: >50000 hours
Working Temperature: -20℃-50℃
Usage Tips
Covering Area: Max.3x3ft at 2ft height (it depends in part on how far you raise the LED fixture about your plants)
Suggested Distance: 1-2ft (ideal distance for seedling is 6-10 inches)
Suggested Work Time: 10-12 hours per day.
Note
Indoor use only:
Light is not waterproof, do not put into water or use in wet locations.
Repairing:
If your light need after sales service, please contact us directly, opening the lights to inspect or repair without our permission will affect your existing warranty.
Extremely bright:
Do not look directly at the LED light when it's operating.
Installation:
To avoid electrical shock hazards, please shut off power before installation.
Come along with Timed Power Extension Cord and Splitter, Perfect partners for our 2pack led grow lights. You may connect one timer to two grow lights at the same time.
24-hours cycle auto on/off timer
After you set the time, it will turn on/off automatically everyday at the same time. No need to turn on/off manually everyday.
Note: Please don't connect this timer to other electric appliances.
Package Includes:
* 2 x 75W LED grow light
* 2 x Power Cord
* 2 x Hanging kits (with 4 ropes)
* 1 x Power Extension Cord with Timer
* 1 x Splitter
* 1 x User Manual