ShoreRestore - Eco Friendly MUCK SILT SLUDGE Digester Pellets Bact...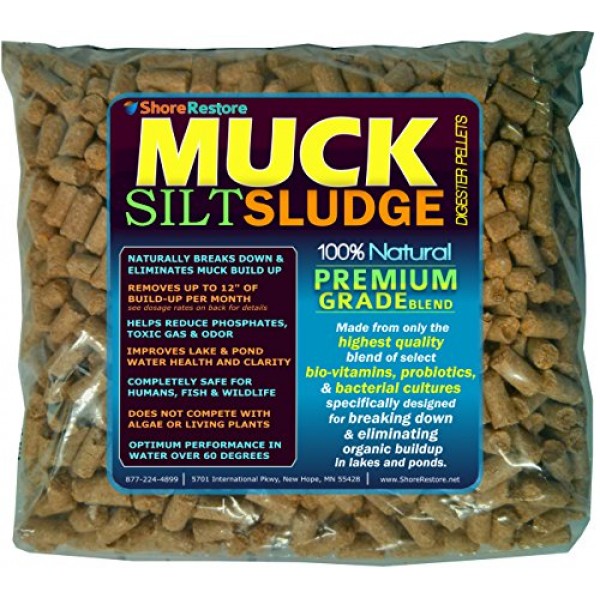 ShoreRestore - Eco Friendly MUCK SILT SLUDGE Digester Pellets Bacteria Enzymes Reduce Control Organic Build-up in Lake and Pond (3lbs)
Choose from a 1lb, 5lb, 10lb 20lb 30Lb or 50lb container. Shore Restore Muck-Silt-Sludge Pellets are all natural, bio-degradable and made with high quality ingredients. They are dense, slow-release pellets designed to sink down into the muck and effetively deliver essential bio-stimulants and indigenous bacteria. Once tossed into a lake or pond they immediately begin to penetrate and degrade organic buildup by stimulating naturally occurring bacteria and adding sludge-eating cultures. They contain safe and beneficial bacteria, and will not harm aquatic species, fish, waterfowl, or people. This product will also reduce sulfide and mercaptan odors found in muck. NOTE: This product will NOT kill aquatic plants or algae. RESIDENTIAL & COMMERCIAL USE: Great for Lakes, Decorative Ponds, Retention Ponds, Shorelines, Golf Courses, Aquaculture Traditional Dose: Feed 10-lb to 25-lb per surface-acre once per month depending on depth of muck or extent of surface debris. Super Dose: To degrade up to 8 inches per month. Feed 50# per acre once per month. Temperature Range: Works best when water temperature is 60° F (17°C) to 130°F (54°C). The warmer it is the faster they reproduce and digest sludge. Store in a cool, dry space between 50-80 degrees F. Keep out of direct sunlight and do not store with strong oxidizing agents. For tips and advice on usage and getting the most out of this product contact us any time and we will be happy to assist!
PREMIUM GRADE: Shore Restore Muck-Silt-Sludge Pellets are made from only the highest quality blend of select bio-vitamins, probiotics, enzymes & beneficial bacterial cultures specifically designed for breaking down & eliminating organic muck, silt, sludge & sediment buildup at the bottom of lakes and ponds.
100% NATURAL: Pellets are biodegradable and completely safe for all aquatic species, fish, waterfowl, and humans. They will not kill living plants or algae.
POWERFUL: They are dense, slow-release pellets designed to sink down into the muck and effectively deliver essential bio-stimulants and indigenous bacteria. Capable of reducing up to 8 INCHES of build-up per month. (see dosage rates on back label for details)
IMPROVES LAKE & POND HEALTH: Our Muck-Silt-Sludge Digester Pellets help reduce phosphates, amonia, toxic gas & odor in lakes and ponds of all sizes. Optimum performance in waters over 60 degrees.
RESIDENTIAL & COMMERCIAL USE: Used by lake & pond Management Professionals. Great for Lakes, Decorative Ponds, Retention Ponds, Shorelines, Golf Courses, Aquaculture