Seed Needs, Cherry Rose Sunflower Helianthus annuus Twin Pack of...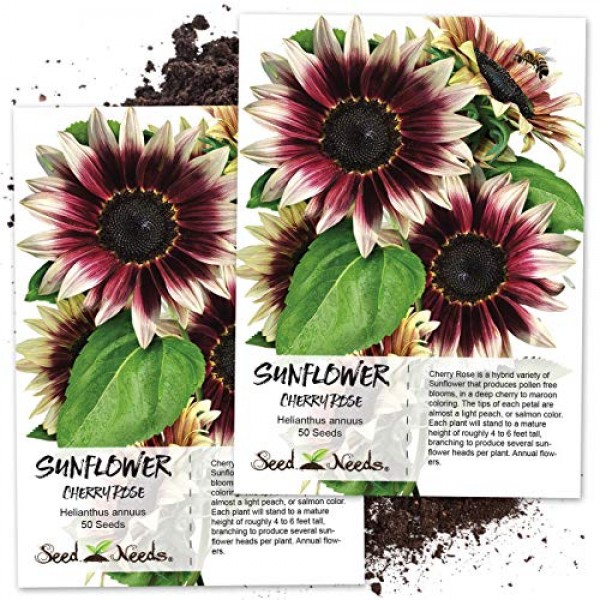 Seed Needs, Cherry Rose Sunflower (Helianthus annuus) Twin Pack of 50 Seeds Each
Grow "Cherry Rose" Sunflowers from fresh Helianthus annus flower seeds. Cherry Rose is a hybrid variety of Sunflower that produces pollen free blooms in a deep cherry to maroon coloring. The tips of each petal are almost a light peach, or salmon color. Each Sunflower plant will stand to a mature height of roughly 4 to 6 feet tall. The stems may need support until maturity. Once established, they are very strong and will stand straight. Helianthus annus is grown as an annual flowering plant that grows quickly, blooms profusely through the summer months and later dies with the first killing frost. Sunflowers are among one of the easiest flowers to grow from fresh flower seeds. They are also seen as one of the most popular and sought after varieties when it comes to gardening. Sunflowers will make a great cut flower for floral arrangements & bouquets and are best used directly outdoors as a border plant, along driveways & fences or in fields by the masses. Cherry Rose is just one of the many hybrid varieties we have to offer. For more colorful varieties, check out our other species listed in the Sunflower category. You may consider purchasing our "Double Dance" mixture for a blend of 14 of our most colorful hybrids.
Quality Sunflower seeds packaged by Seed Needs. Intended for the current and the following growing season. Packets are 3.25" wide by 4.50" tall and come with a full colored illustration on the front side, as well as detailed sowing instructions on the reverse.
All seeds by Seed Needs are Non-GMO based seed products
Sunflowers are not particularly fond of being transplanted, but if started indoors, sow in peat pots, 6 to 8 weeks prior to the last frost. Sow at a depth of 1/2" under topsoil. Transplant entire pots into the garden, or direct sow when the weather is warm and all danger of frost has passed. Stakes may be necessary to support your Sunflowers, only until the stems become strong enough to stand on their own.
Sunflowers grow long taproots and may rot if the roots become waterlogged. It is recommended to check your sowing area for hard, compacted soil prior to sowing. Renew any hard, compacted soil with a mixture of compost. Sunflowers will enjoy an area of full sunlight for the majority of the day and should be watered daily so that the soil is kept moist until germination has occurred.
All Sunflower seeds sold by Seed Needs are Non-GMO based seed products and are intended for the current & the following growing season. All seeds are produced from open pollinated plants, stored in a temperature controlled facility and constantly moved out due to popularity.