SANSI Daylight LED Grow Light Bulb, 10W Full Spectrum Sunlight LED...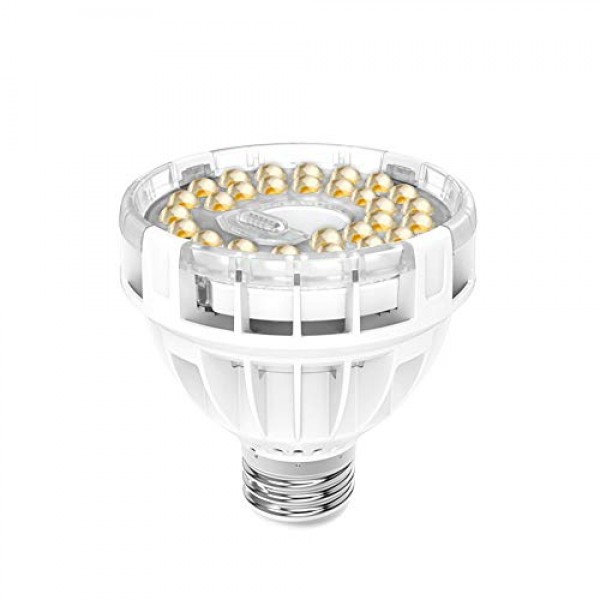 SANSI Daylight LED Grow Light Bulb, 10W Full Spectrum Sunlight LED Grow Lights for Indoor Plants Vegetables and Seedlings, LED Plant White Lights for Indoor Garden Greenhouses UV IR, E26 AC120V
Specifications:
Wattage: 10W
Input Voltage: AC120V
Beam Angle: 60°
IP Rating: IP20
Material: ceramic+PC
Luminous Flux: 900 lumens
Why Choose SANSI Full Spectrum LED Grow Lights?
Blue (400-499nm) 15.45%--Helps plants for vegetative growth and absorption
Green (500-599nm) 34.16%--Helps plants grow
Red (600-699nm) 41.96%--The key of flowering or fruiting plants, it will speed up flowering or fruiting
Far Red (700-780nm) 8.44%--Helps regulate physiological activities such as shading and flowering
UV(380-399nm)0.05%-- Essential for plants to form pigments and vitamin D, absorb phosphorus, aluminum
PPF 15.1μmol/s
Luminous Efficiency 93.17 LM/W
Key Features:
Fast heat dissipation by unique heat sink design, it can guarantee the use of more than 30,000 operating hours.
Full Spectrum LED plant growth lamps perfectly simulate of the effect of sunlight on plants and make your plants grow better.
Ceramic and plastic body promote healthy insulation and the 60°Illumination angle enables you to grow more plants with just one light bulb.
Suitable for indoor plants, greenhouse plants, hydroponic systems, vegetable cultivation etc...
Why choose SANSI?
SANSI was established in 1993, dedicating 25 years to LED technology development, with a multidisciplinary R&D team of more than 400 engineers. We are now one of the global leaders in LED applications.
Our products are superior in their quality and performance to the rest of those on the market.
Choose SANSI, choose a better lighting experience. Some projects of SANSI include: Multiple screens up in New York Times Square, screens in the Verizon Center, Washington, D.C.
REAL FULL SPECTRUM---SANSI full spectrum LED grow light replicates natural sunlight, providing the full wavelength of light that is needed for the healthy growth of plants, and can improve the efficiency of photosynthesis. The luminous efficiency of this full spectrum light is 93.17LM/W, and your plants will receive a more uniform light than those that just use single red or blue spectrum light, which will make your plants grow faster and healthier.
BETTER DISSIPATION & LONGER LIFESPAN---Unique ceramic heat dissipation technology makes each chip free of fans, speeding up heat dissipation and saving money on your electricity bill every month. The hollowed out design of SANSI LED plant light bulbs keep a good temperature even after 24 hours of continuous use along with no harm to your plants and a longer lifespan.
UNIQUE LED CHIP DESIGN & HIGHER CRI---A chip that mixes all light spectrums, perfectly simulates sunlight to make the light distribution more uniform, and promote the healthy growth of plants. All LEDs are full spectrum and consist of red, blue, yellow, white, FR and UV light. Suitable for all indoor plants, vegetables and flowers in all stages of growth. CRI 97+ ensures a true color temperature experience. Everything is just pleasant on your eyes!
EASY TO SET UP WITH E26 SOCKET---Operates like a light bulb! Fits standard E26 sockets with no special lamp-base necessary. Recommended coverage area up to 3sq. ft. mounted 7.87''-19.69'' above plants with various lighting schedules depending on different types of plants.
BEST AFTER-SALES SERVICE---30 days no question asked return policy and 5 years unlimited warranty ensure you a satisfying shopping experience. If you have any questions, please feel free to contact us. Questions will be answered within 24 hours.