SANSI 24W LED Plant Light Bulb Full Spectrum LED Grow Light Plant ...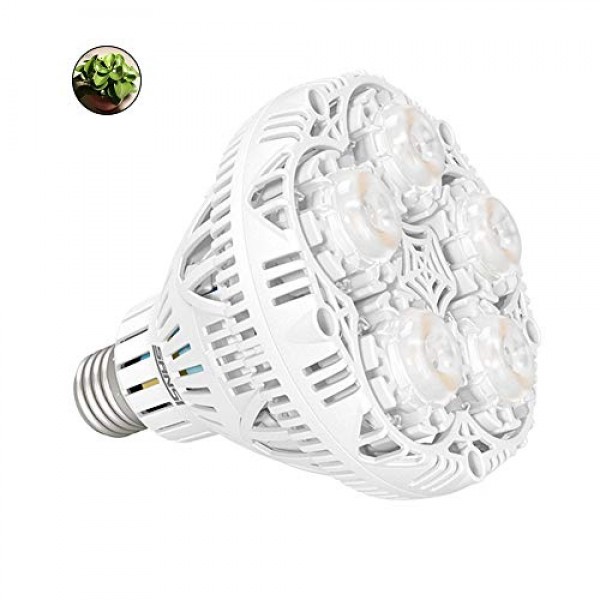 SANSI 24W LED Plant Light Bulb Full Spectrum LED Grow Light Plant Lights for Indoor Plants, E26 Grow Light Bulb for Hydroponics Greenhouse Houseplants Vegetable Tobacco, Sunlight White UV IR
Correct Method of Application
1. Screw SANSI LED Grow Light Bulb into a standard E26 socket.
2. Recommended coverage area is up to 4.20 sq.ft mounted 18"-24" above the plants
3. Limit light to plants to 6-20 hours per day depending on type of plant and environment.
Product Features
1. Uniformed Lighting and Spectrum
Each LED chip is a mixed concentration of blue, green, red, and far-red lighting providing an evenly distributed spectrum ideal for most plants.
2. Emits a White Light Similar to a Daylight Bulb
Light color is similar to a standard daylight bulb, with a color spectrum closely imitating natural sunlight.
3. Hollow out Design
Hollow out design ensures good ventilation, quick heat dissipation with longer lasting light performance and lifetime.
Knowledge of Spectrum
1. How does light promote plant growing?
Blue-light having a wavelength of 400 nm to 520 nm promotes the absorbing of chlorophyll and carotenoid and helps the growth of roots and stems.
Red-light having a wavelength of 620 nm to 750 nm promotes booming and fruits.
2. What's the spectrum of the SANSI 30W Full Spectrum LED Grow Light?
Blue (400-499nm) 19.46%
Green (500-599nm) 37.70%
Red (600-699nm) 36.23%
Far Red (700-780nm) 6.61%
PPF 66.87μmol/s
Specifications:
Wattage: 24W
Input Voltage: 90-132Vac 60Hz
Power Factor: ≥0.7
IP Rating: IP20
Light Holder: E26
Optics: 60°
Lumen Out put: 1830lm
Daylight Grow Light --- SANSI 24W Daylight Full Spectrum LED Grow Lights are the most powerful grow light bulbs available. We encourage you to compare our µmol/s vs. any light bulb designed for growing plants. Our Ceramic LED Independent Pixel Heat Sink design allows us to increase our photon density (PPF/W) within the bulb. Best of all, the bulb emits a white light ideal for aesthetically pleasing environments.
Easy to Install --- Operates like a light bulb with a standard E26 socket with no special lamp-base necessary. Recommended coverage area up to about 4.20 sq. ft. mounted 18"-24" above the plants with varying lighting schedules dependent on the plant(s) being grown.
Full Spectrum --- Each Sansi LED chip has an evenly distributed spectrum between 400-780nm. Instead of having multiple LED chips with individual colors (white, blue, red, far red), each LED chip has a mix of each color giving off a whitish glow.
Ceramic LEDs vs. Aluminum LEDs --- Compared with other grow lights (all competitors use aluminum LEDs), ceramic dissipates heat more efficiently than aluminum because it is non-conducive. This allows our LED chips to be mounted directly to ceramic; making each chip free of fans, housing, adhesive, and PC boards. Ceramic modules have fewer parts than conventional LEDs, and therefore conduct less heat and generate more savings.
What You Get --- 5-year unlimited warranty; 30 days no question asked return policy; High quality product; 24/7 friendly customer support.