Roleadro Grow Light, 1000W LED Grow Light Full Spectrum Galaxyhydr...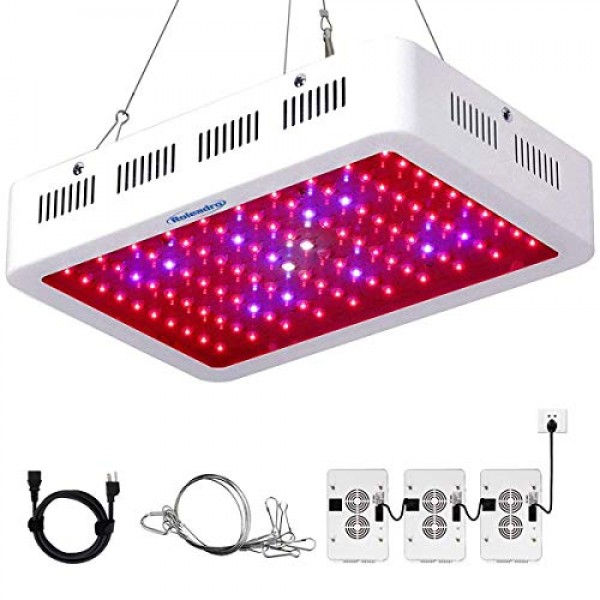 Roleadro Grow Light, 1000W LED Grow Light Full Spectrum Galaxyhydro Series Plant Light for Indoor Plants with UV&IR for Greenhouse, Hydroponics, Seedlings, Veg and Flower
Why choose us?
1. High power 3w Branded Epileds to ensure the Par Value. Energy saving, environmental friendly and high brightness
2. Professional light proportion with best ratio of red ray and blue ray, providing better light environment for plants growth and improving the growth speed and output of plants.
3. Including IR(infrared) with the function of increasing the yield. ( not so brighter than other leds, but it's normal and not quality problem)
4. UL approved Fans, high quality IC, well designed fan blades, anti-noise, powerful cooling performance ensured, lifespan extended
5. 9 band: 430~440nm, 450~460nm, 610~615nm, 620~630nm, 650~660nm, white, IR(730nm)
6.Revolutionary Heat Aluminium PCB, Run 80% cooler than high intensity discharge (HID) lights
7.Zener, works as capacitor, protect the light keep working if there's one LED out of work.
8. 11 years' experience in designing and manufacturing lights. Agents in USA, Australia, UK and so on
Product info:
Actual Power:135w±5%
Size: 12.1x2.4x8.2 inch
View Angle of LEDs: 90°and 120°mixed
Worldwide Voltage: AC85~265V
Frequency: 50/60 HZ
Certificates: CE, ROHS, FCC
Spectrum of Light : Vegetated Stage - 430-475nm, 620-630nm, 660nm and White Spectrum of Light: Growth & Bloom - 430-475nm, 620-630nm, 660nm, 730nm and White
Note: It is hard to see the lights of the IR leds clearly by eyes. Please don't think they are not working. Instead, they play a very important role in flowering and fruiting stages of plants
Using Tips:
Suggested Continuous Working Time: 10~16 hours per day Recommended Height to Plant: 19~59 inch according to different growing stages
►Blurples Light-Roleadro Grow light is an infrared grow light that is great for indoor plants. All Kinds of Indoor Plants Will be Happy in all Growth Stage at Any Time and Anywhere! The secret is our grow light extracted the most useful Blue Red IR UV and white light spectrum from natural sunlight to help plants perform photosynthesis better. Different from other full spectrum grow lights, we added more RED light to ensure the yield will be increased up to 30%-50%.
►Higher PAR Value and Energy Saving-Unique 90 degree optical lens and Eplieds 10w chips design bring higher PAR value(453umol at 18") and Lumen output than others. Effectively reduce light loss and ensure the utilization of light up to 98%. That makes this growing light achieved the balance between efficient utilization and energy-saving. With it, you can grow delicate tropicals that will bloom year-round, as well as letting you harvest easy-to-grow vegetables and herbs in the coldest winter day
►Unique LED Bead and Zener Design-This plant light adopted led bead and zener design instead of the reflector to ensure if one led out won't affect others' leds. just consumes about 135w power, the electricity is 0.135kW·h per hour. And test result shows that the plastic reflector surface can not stand the temperature over 70 degrees and will burn out like melt. That is why Galaxhydro grow light use led bead/zener and always insist on it. We hope growing will be more safely and eco-friendly.
►Powerful Heat-Removal System-Roleadro 1000w led grow light are adopted 2 high-speed cooling fans+built-in aluminum heat-sink+unique built-in temperature controller, all of them constitute a powerful cooling system which can dissipate the heat from the lamp inside to outside efficiently. LED grow light input voltage AC85-265V, The LED grow light can replace traditional 1000 watt HPS/MH while consuming only 135 total watts!Totally protect the led board and ensure the long service life.
►Reliable Warranty and Professional Service/Support-We are not only the seller but also a professional manufacturer with 11 years R&D and production experience of the led light. All our products were strictly through the high-temperature test and check before sending out, 24months warranty is our promise. With our grow lights, you can enjoy kinds of plants, veg, and flowers in anti-season. Any problem, you can just contact us, we will provide you the professional solution and support.