Robelyn Labs Refreshing Foot Therapy Gel Combo Pk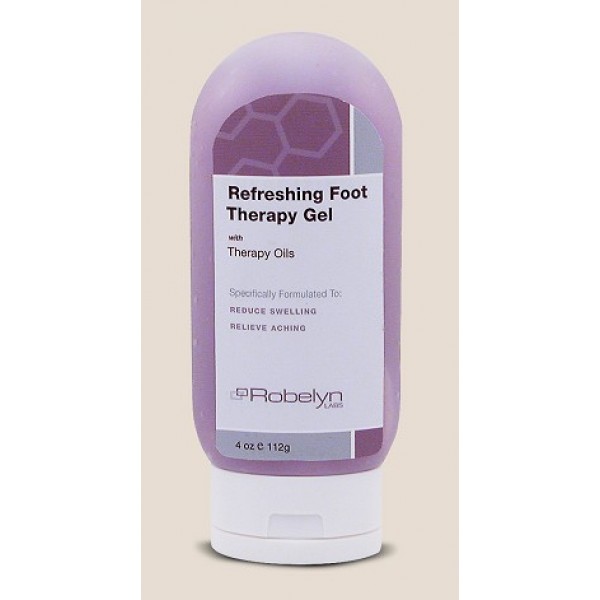 Treat yourself or someone you love to some relief and relaxation! This special package for pregnant women contains one 4 ounce tube of therapeutic pain relief gel and one 4 ounce tube of refreshing foot therapy gel.

Refreshing Foot Therapy Gel - 4oz

Our advanced formula cools, soothes, refreshes, revitalizes and reduces the swelling in aching feet and toes. The ingredients in our gel deliver a calming feel to your feet while special natural oils and chlorophyll combat foot odors.

Our Refreshing Foot Therapy Gel provides fast relief for sore, tired feet due to swelling and added weight gain from pregnancy. Experience a fresh, tingling comfort that brings relief to sore, weary, swollen feet.

Robelyn Labs' unique use of natural ingredients is the key to the precise blending of "aromatherapy oils" with well known cooling, soothing ingredients that result in this formula's unique performance. Use it after a long day, or in the morning to energize feet. The gel is absorbed with no greasy or sticky feel.
All natural
Guaranteed to cool and sooth
Reduces swelling
Combats foot odor
No staining, greasy residue or lingering odor
Not tested on animals
Therapeutic Pain Relief Gel - 4oz

Our unique, natural Therapeutic Pain Relief Gel is formulated specifically for expectant mothers and works to detoxify and provide clean, fast, odorless relief.

When our natural Therapeutic Pain Relief Gel is massaged into the skin, the aloe-vera, menthol and eucalyptus, is quickly absorbed into the muscles and joints to provide a natural anti-inflammatory action and fast-acting relief for sore muscle and joints.

The gel goes on cool but quickly warms the area by aiding the body's natural healing fluid to flow freely and encourage pain-free movement.
All natural pain reliever
Will not stain
No oily residue or lingering odor
Penetrates instantly
Fast-acting
Not tested on animals

About Robelyn Labs, Inc.
Robelyn Labs is a skin care company specializing in safe and effective maternity skin care products. Even though we specialize in the area of maternity our products can be used by everyone – young or old, women or men, any skin type. It is our commitment to providing quality products that enables us to create products that have universal benefits.
Our corporate mission has never changed. We believe that our customers deserve the best and most unique scientifically-proven products that offer positive, real and visible results regardless of manufacturing costs.
Why Robelyn Labs Maternity Skin Care products make a difference:
Elastin3 is the only stretch mark (stria) treatment that combines Argireline, elastin, collagen and soy protein.
All our products are safe for men and women of all ages and skin types.
Our products are not tested on animals.
Our products not only perform as promised, but they are completely safe to use before, during and after pregnancies.
A complete line of products are offered for all your maternity skin care needs.
Item No AR1041