Sow Right Seeds - Mint Seed for Planting - Non-GMO Heirloom Seeds ...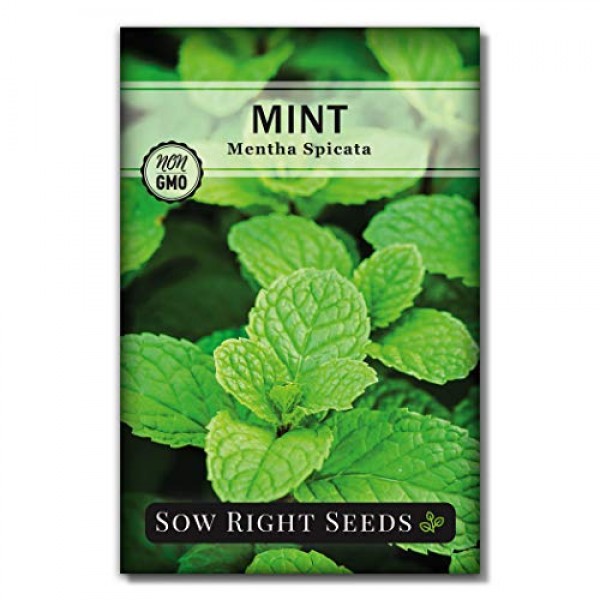 Sow Right Seeds - Mint Seed for Planting - Non-GMO Heirloom Seeds - Instructions to Plant and Grow an Herbal Tea Garden, Indoors or Outdoor; Great Gardening Gift (1)
Mint seeds for you herb garden to make wonderful tea.  Minimum of 100mg per packet
BEAUTIFUL - Large packet of Mint Seeds (Mentha spicata); Popular and easy-to-grow perennial with intense, cool-tasting leaves used in drinks, salads, desserts, and teas. Spreads vigorously; easier to control when grown in a container. Minimum of 100 mg per packet.
INDOOR OR OUTDOOR; A carefully selected variety that can easily be grown indoors in your kitchen or outdoors in the garden.
GROW YOUR OWN TEA -- Mint leaves are easy to grow and add variety to your kitchen. Fresh or dried leaves create lovely herbal tea both hot and iced. Try some in your lemonade for a cooling, refreshing taste.
EASY TO GROW -- Instructions included on each packet with additional growing tips, harvest instructions, recipes, etc. in the "How To" section of our website. Plus we are available to answer your questions as well.  If these seeds don't germinate, we will happily make it right for you.
SAFE SEED -- Sow Right Seeds has taken the Safe Seed Pledge and sells only Non-GMO heirloom seeds that are safe for you and your family.