Rhythm Touch Muscle Stimulator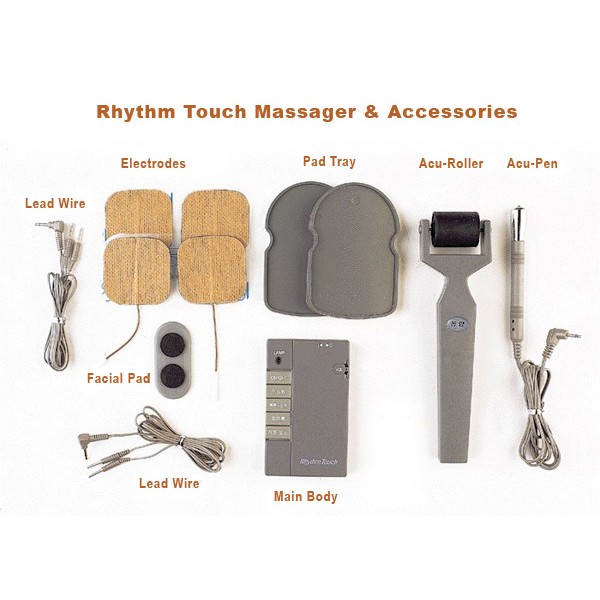 Rhythm Touch Q the best portable low frequency muscle stimulator. The complete set is portable, using triple A batteries with an automatic therapy option that cycles to multiple treatment programs.
Included in the Bundle are the following:
Massage Unit
Adhesive Pad (4 Pcs)
Acrylic Holder (2 each)
Lead Wire Cord (2 each)
Batteries (2 AAA)
Acu-Roller Mobile Stimulator and Massager
Face Rejuvenator Pad

Acu-Pen Pressure Point Activator

Bonus Adhesive Pad, 4 extra pieces valued at $15.00
The Rhythm Touch Q is the answer to relieve deep tissue and muscle pain. More and more chronic pain sufferers are turning accu-therapy to relieve their symptoms and you can be next to find relief. Its approved for non-prescription sale by the FDA. Get the results you previously could only hope for without visiting the chiropractors office.
What are electronic muscle stimulators?
They are state-of-the-art units that are scientifically designed to give your muscles a fast and effective workout. They are lightweight, portable, and can be used almost anywhere.

Are electronic muscle stimulators safe?
If used as directed, electronic muscle stimulators are very safe, reliable and, in fact, have been used by the medical community for many decades. The technology continues to be used extensively in hospital settings, physiotherapy clinics, and is used by chiropractors, spas and health clubs.

How soon will I see results?
Within 3-to-4 weeks you should begin to see results, although you may feel better after only a few sessions. Electronic muscle stimulation technology suits the busy lifestyle of many, and it is an exercise resource that can be used regardless of time, place, weather and availability of facilities, think about it, you can even watch television or read a book while you exercise.

Who should not use the machine?
Pregnant women, people with heart disease or pacemakers, epileptics or seizure prone individuals or anyone with metal plates or pins in their body must not use the Rhythm Touch Muscle Stimulation unit.

Does a doctor have to operate the machine? Or can I?
No assistance from a physician or other technical person is required. Although you can operate the machine safely by yourself, please observe the warnings indicated above to avoid the possibility of physical harm.
Item No EX002