Revivogen MD Bio-Cleansing Shampoo for Thinning Hair, Natural Anti...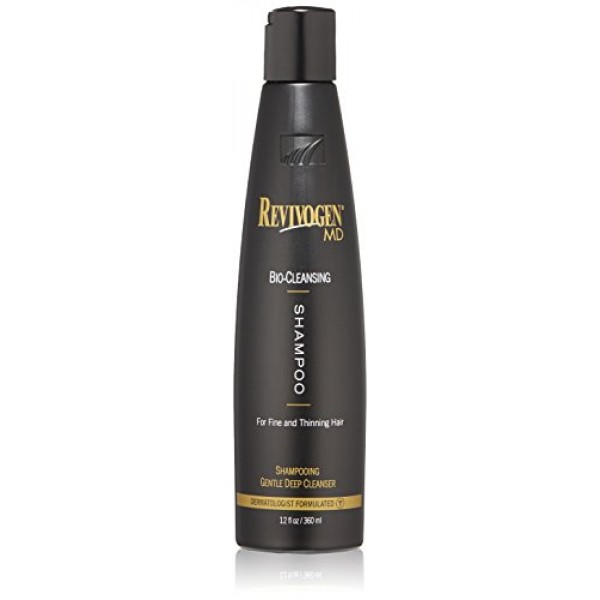 Revivogen MD Bio-Cleansing Shampoo for Thinning Hair, Natural Anti-DHT Ingredients, Reduce Scalp Irritation & Stimulate Thicker, Fuller, Healthier Hair for hair loss sufferers, 1 unit -12 oz.
DESCRIPTION
A gentle and highly effective cleansing shampoo for men and women experiencing hair loss with fine and thinning hair. Safe for all hair types. Cleanses scalp, removes surface DHT, soothes irritation, increases volume and prepares the hair for the hair loss treatment serum. Get thicker looking hair- money back guarantee!
BENEFITS
Revivogen MD Bio-Cleansing Shampoo is a dermatologist formulated gentle cleanser that removes sebum, and uses natural DHT blocking ingredients to help cleanse DHT from the scalp. Use this once daily in conjunction with the topical natural hair loss solution Revivogen MD Scalp Therapy Treatment Serum for best results. Get thicker, fuller, healthier hair. Reduce the DHT hair loss hormone topically with the Scalp Therapy Serum to reverse the effects of female hormonal hair loss and male pattern baldness. Sulfate free, paraben free, sodium chloride free. Safe for color and chemically treated hair.
SUGGESTED USE
Apply to wet hair, massage and lather. Rinse thoroughly, repeat if necessary. Use daily or every other day as needed to create thicker and healthier looking hair.
Dermatologist formulated & dermatologist recommended
Natural DHT Blocking Ingredients
Safe & Effective for Men & Women
Increases thickness and volume
Proven effective + money back guarantee