Retinol Moisturizer Anti Aging Cream - Anti Wrinkle Lotion - Face ...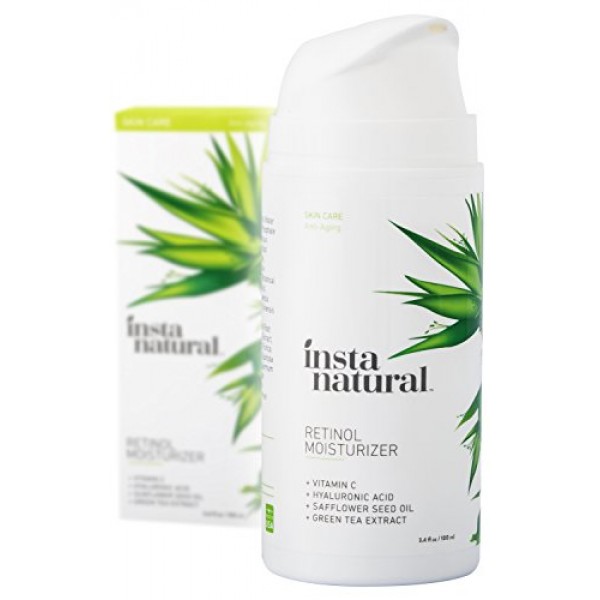 Retinol Moisturizer Anti Aging Cream - Anti Wrinkle Lotion - Face & Neck- Helps Reduce Appearance of Wrinkles, Crows Feet, Circles & Fine Lines - With Vitamin C Hyaluronic Acid - InstaNatural - 3.4 OZ
Give yourself the beautiful and soft skin you've been looking for with InstaNatural's Retinol Moisturizer. With natural antioxidants and nutrients, the Hyaluronic Acid, Jojoba Oil and Shea Butter help maintain moisture while the Vitamin C brightens and protects skin.
ADVANCED RETINOL SUPPORT - InstaNatural's Retinol Moisturizer uses the power of Vitamin A (Retinol), Vitamin C, and Green Tea to provide intense antioxidant benefits for beautiful skin and optimal results. This makes it the perfect cream to achieve radiant, soft, and refreshed skin.
FIGHT WRINKLES, FINE LINES, AND HYPERPIGMENTATION - Vitamin A and Vitamin C are two of the most trusted ingredients to fight aging concerns. Powered with the additional antioxidant benefits of Green Tea, this moisturizer offers strong antioxidant power to fight against the signs of aging. These nutrients work synergistically to restore and reduce the effects of sun.
AN EFFECTIVE FORMULA THAT DELIVERS REAL RESULTS - This Retinol Moisturizer is great for a wide variety of skin types, which makes it a fantastic addition to any skin care regimen. Use of this Retinol Moisturizer at night on cleansed skin is recommended, using any applicable serums first.