Rejuven Light 2.0 LED Light therapy w/ 4 Interchangeable heads Ant...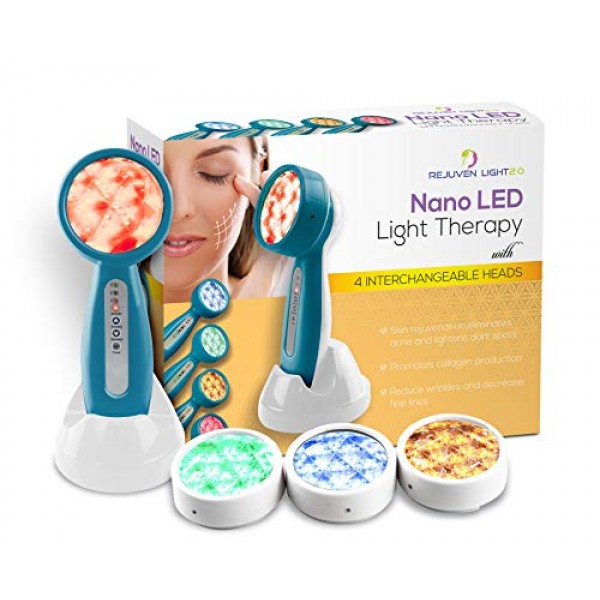 Rejuven Light 2.0 LED Light therapy w/ 4 Interchangeable heads Anti aging device, skin rejuvenation, lightens dark spots, promotes collagen and reduce wrinkles and fine lines (Rejuven Light)
NEW Rejuven Light 2.0
is a LED light therapy system originally developed by doctors and engineers from NASA to promote healing and plant growth. Studies have shown that light therapy when used in skin treatments promotes a variety of benefits for wrinkles, aging, stretchmarks, and elasticity.
An LED facial, aka Color Light Therapy, uses four clinically proven wavelengths of UV-free LED lights that claims to boost collagen production and Increase blood circulation. Results from LED light therapy are cumulative, you receive additional benefits from doing a treatment a week for eight to ten weeks.
Rejuven Light utilizes 4 DIFFERENT TYPES OF PHOTOTHERAPY for your skin each with it's own benefits powered by 48 individual LEDs.
RED LIGHT Brightens and evens the skin tone. Proliferates collagen protein and diminishes the appearance of fine lines and wrinkles. Tightens, firms and repairs damaged skin. An excellent repairing and anti-aging treatment.
YELLOW LIGHT Relieves irritation and aims to enhance the immunity within the skin. It also stimulates the lymphatic and nervous system, to rid the skin of toxins and increase circulation. This treatment is best for swollen and sensitive skin.
BLUE LIGHT Kills bacterium from within the skin whilst diminishing inflammation and breakouts.
GREEN LIGHT Calms and balances the skin tone, this can help breakdown and prevent uneven melanin (pigment) production. An excellent treatment that leaves the skin even and bright, whist calming the skin and stimulating the lymphatic drainage system.
Select desired LED head then glide over the face making contact. Hold device still on each section for 2-3 mins. Focus on 4 Quadrants of the face. Use daily for 10-15 minutes total.
CLINICALLY PROVEN TO SEE RESULTS, SAVE HUNDREDS OF DOLLARS FROM VISITING SPA CLINICS-30 DAY MONEY BACK GUARANTEE
INCREDIBLE VALUE only LED light therapy that includes 4 Interchangeable heads with different wavelenghts for specific treatment including Anti-aging, Hyperpigmentation, and Lymphatic Drainage. MSRP $149.99, Introductory Offer
LED Light Therapy is a pain-free, non-invasive, soothing and rejuvenating Anti aging device skin treatment. This treatment will help treat breakouts, fine lines and wrinkles, post inflammatory scarring and rosacea. It will not only help minimize breakouts , but also soothe your skin and reduce both redness and inflammation.
Heals blemishes, reduces skin degradation, helps improve sun damaged skin. Creates more skin moisture, increases circulation, leading to a healthier skin tone.
Powered by an exclusive nano LED technology that enables light to penetrate deep into the body's tissue for maximum effectiveness.
NEW 2.0 version features powerbase for hands free application