Redecker Goat Hair Baby Hairbrush with Oiled Pearwood Handle, 6-1/...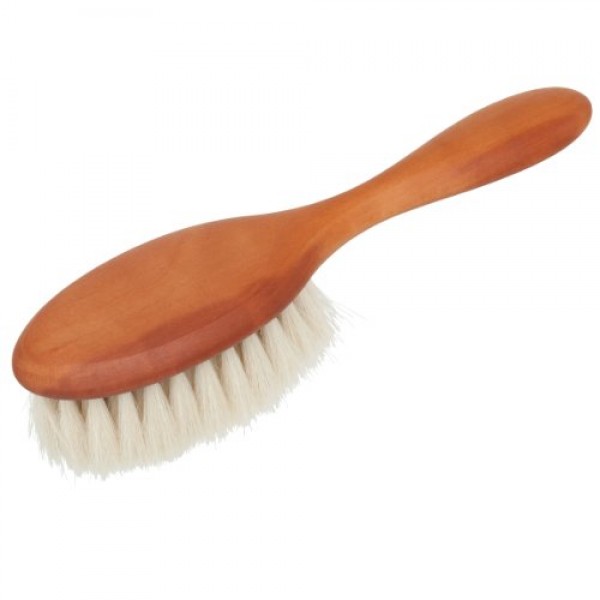 Babies, too, should always look their best. No more bad hair days for your baby if you have this Baby Hairbrush with oiled pearwood handle and goat hair bristles.
Goat hair is especially gentle for baby's sensitive scalp. Groom your 1-year old baby or below with this cuddly brush made of oiled pearwood and gentle goat hair bristles that will caress your baby's hair. It has 7 bristle rows and a length of 6-3/10 inches, the perfect size for your baby's delicate scalp.
Bürstenhaus Redecker, one of the last producers of hand-crafted brushes in Germany. Bürstenhaus Redecker has been making brushes for over 75 years! Today Bürstenhaus Redecker offers an extensive selection of both traditional and highly modern brushes and wooden articles for all areas of life. Bürstenhaus Redecker continues to offer new practical helpers for the household and beautifully designed items for the bath and sauna.
"75 years have made us neither inflexible nor bored. We remain creative, curious and dedicated to our task with passion and enjoyment."
With a length of 6-3/10 inches, this brush made of oiled pearwood and goat hair bristle is perfect for your baby
A gentle hair brush for your baby's sensitive scalp; a great hair grooming aid to keep your baby's hair in place
The oiled pearwood handle has a reddish wood color that not only looks lovely but feels nice to hold too
Has 7 rows of cuddly bristles; ideal for babies up to 1 year old
Made by the world-renowned manufacturer of brush and wood products for 75 years, Bürstenhaus Redecker; Made in Germany