RECORDCENT LED Grow Light Full Spectrum Indoor Grow Lights for Pla...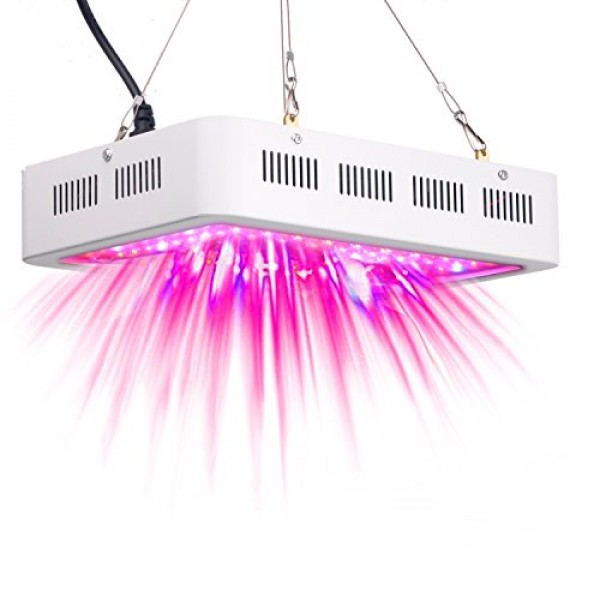 RECORDCENT LED Grow Light Full Spectrum Indoor Grow Lights for Plants Veg and Flower in Greenhouse Tent Plant(Replaced 1000 W HPS Light, Actual Power Consumption 110-130 W) (1000W-A)
RECORDCENT Dual-series¬Specifications : Dimension: 12. 2x8. 2x2. 4inches Replaced HPS/EM: 1000w Power Consumption:120--130W LEDs: 100pcs Full spectrum for vegetative and flowering stage: 410nm, 430~440nm, 450~475nm, 620~630nm, 650~670nm, White, IR(730nm) (It is hard to see clearly by eyes, very dim. Please don't think they are not working. Instead, it plays an very important role in the flowering and fruiting stages of plants. ) Coverage Area: about 3. 0 x 3. 2 ft(The lighting area and the height are changeable according to different plants and environments. ) Lifespan: >50, 000hours Worldwide Voltage: 85v-265v Working Frequency: 50~60Hz Using tips Lighting Time setup: Vegetative Stage: 12-14 hours on; Flowering Stage: 9-12 hours on. Fruiting Stage: 7- 8 hours on Suggest distance above plants: 2-3. 5ft. Tips for increasing lifespan: please let the light have a rest for about 20mins after 7-8hours working. Attention Do not use the lights in dripping water or anywhere where they will get wet, water and electricity can be a dangerous mixture. The working environment is -20~40¡æ, 45%RH~90%RH. To protect the light, Pls cut off the power when there is a lightning strike. Don¡¯t touch or move when the light working. Package includes: 1pcs RECORDCENT Dual- 1000W LED grow light 1pcs free power cable 1pcs free hanging hook. Easy Installation 3 years : return and money back for customers within 30 days, ship free parts and free shipping to customers for a fix within 180days, ship free parts and the buyer pay the shipping fees for a fix more than 180days.
1000W Powerful Lights: Double Chips 5W double Chips LEDs which is much brighter and efficient than 1W and 3W LEDs. Energy saving, just consumes about 120w-130w power. High brightness and Long lifespan.
Dual Lens Technology--Our Advance Customizable Dimmable Spectrum LED lights increases Canopy Penetration with the Dual Lens feature. It increases PAR by 200% by maximizing light dispersion and focuses the light intensity with the mixed 60 and 120 degree angle optical mangnifying lens.saving 30% energy than other LED grow light Competing Brand
Higher yields with a budget in mind--High quality lights don't have to break the bank. Our lights are 40% cheaper than our competitors without sacrificing on quality or features.
Overheat Protection: Two cooling fans in every kit, keep the lights working longer.And every led has a resistance to keep them work separately.
90 Day Satisfaction Guarantee-- We're so confident of the Advance Spectrum MAX lights that we offer a 120 Day Guarantee. Try it for a growth cycle, if they aren't the best lights you've tried, send them back.