Rain Bird SST400I Simple To Set Indoor Timer, 4-Zone Discontinued...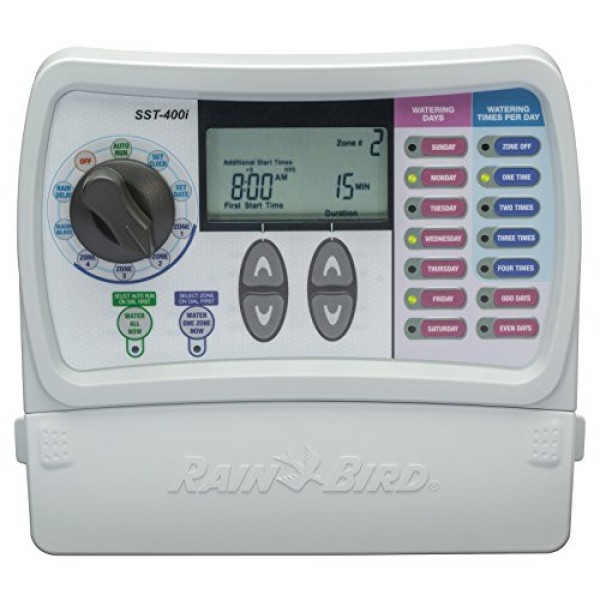 Add value, versatility, and convenience to your underground watering system with the Rain Bird SST-400i four-station automatic indoor sprinkler timer.
The Simple-to-Set Timer allows you to schedule different watering times for up to 4 zones. (View larger).
The timer includes color-coded terminals for easy installation (SST-900i pictured). (View larger).
So easy to use you can forget the instructions, the SST-400i's intuitive zone-by-zone scheduling allows you to set different watering times for each area of the yard, providing greener results with less water. By turning the dial to the appropriate zone, you can easily set your system to water full sun areas more and shaded areas less, or water slopes and clay soils in short intervals to allow water to soak in--an important step in avoiding runoff. You can also vary the timing and frequency of pop-up sprays vs. rotor zones and customize the drip zones when watering trees and landscapes.
Advanced Controls
The SST-400i offers one-touch seasonal adjustments, allowing you to increase watering in hot, dry months and reduce it in rainy periods. The timer is also compatible with an optional rain sensor, which automatically shuts off the timer when it's raining. And maintenance is easy thanks to the built-in troubleshooting feature. If the timer detects a short, it suspends watering to that zone and displays a warning message. The timer even protects against surges from nearby lightning strikes and power surges. If power is interrupted, the timer stores the settings indefinitely without the need for a backup battery.
Simple Installation
To install the SST-400i, simply strip the wires and push them into the color-coded terminals--no screwdriver necessary. The terminals make it easy to connect zone wires, master valves, pump start relays, or a rain sensor.
What's in the Box
SST-400i timer with transformer and 6-foot cord, English/Spanish installation guide, English/Spanish operating manuals.
Automatic indoor watering system timer with control for up to 4 zones
Simple zone-by-zone setting allows you to customize watering schedules for different areas
Easy-to-operate system lets you choose start time, watering duration, and days of week
Large, easy-to-read screen and backlit buttons allow you to review settings at a glance
Sealed case protects against moisture, insects, and grime; superior surge protection