Premium Argan Oil for Hair Treatment, Conditioning & Hair Loss Pre...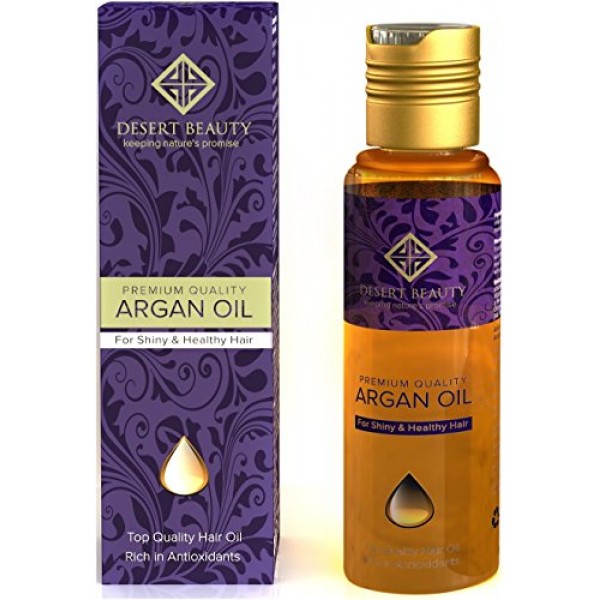 * BEST ARGAN OIL FOR HAIR GROWTH AND PREVENTION OF HAIR LOSS *
* 100% SATISFACTION GUARANTEED *
* TRY IT RISK FREE *
At the Desert Beauty family, we believe that the greatest success, in business and in life, is to add value to this world. To do so, we have worked tirelessly to combine the best materials and create the perfect formula for your hair.
We believe that there is no substitute for quality. We have worked uncompromisingly to provide you with the highest quality hair care serum on the market - we guarantee it!
At Desert Beauty, your satisfaction is key - we have made it our mission to give you the greatest hair care experience possible and to keep you 100% satisfied!
If, for some reason, you are not 100% satisfied, we will do everything in our power to transform your experience for the better - including refunding you payment entirely, or sending a new product.
Enjoy soft, younger-looking hair instantly! Your significant other will love running their fingers through your silky locks and your friends will beg to know your secret! Just a few drops will give you vibrant, silky hair - Desert Beauty's Moroccan Organic Argan Oil will leave you looking absolutely radiant!
Desert Beauty is completely natural and vitamin rich. It is an Organic product with nourishing ingredients like jojoba oil, coconut oil and more - a unique blend you won't find anywhere else. It is completely free of additives, chemicals, and other harsh ingredients and it is not tested on animals. It's just the product you need for the health and growth of your hair! And you'll look great, too!
CLICK "ADD TO CART" NOW AND GET YOUR HAIR THE GREAT TREATMENT IT DESERVES TODAY!
BRINGS LIFE BACK TO DULL, DRY, UNRULY HAIR: Struggling with split ends, frizz, and dryness? Designed just for hair, our argan oil serum instantly restores luxurious softness and shine from the very first use. Also hydrates scalp and supports healthy hair growth.
PREMIUM INGREDIENTS: Our exclusive, antioxidant-rich formula contains high-quality Moroccan argan oil sourced from argan tree groves in the Middle East. It's also infused with jojoba oil, coconut oil, and other natural ingredients to provide extra nourishment to your hair.
MADE WITH ORGANIC INGREDIENTS: Our product is free of toxic additives, preservatives, and other harsh ingredients. Plus, it's never tested on animals. Forget chemical-filled hair products... this is one you can feel good about using!
NON-GREASY: Unlike other argan oils, this lightweight golden serum absorbs quickly into your hair and leaves no greasy residue behind. Won't weigh your hair down or make it look oily. One bottle lasts and lasts - just 2 to 3 drops goes a long way!
100% MONEY-BACK GUARANTEE: We're confident you'll fall in love with our argan oil the very first time you try it. But if you're not happy with our product for any reason, we want to make it right. We'll either send you a new bottle or refund your money promptly.