House Plant Fertilizer - Complete Slow Release Formula + Micro Nut...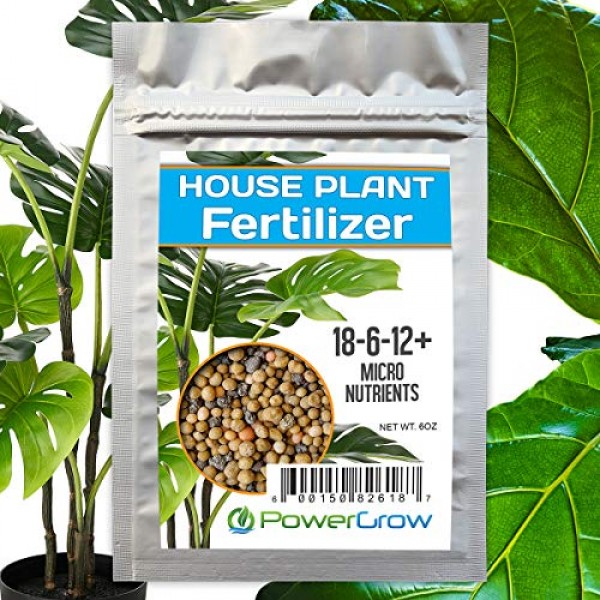 House Plant Fertilizer - Complete Slow Release Formula + Micro Nutrients by PowerGrow - Feeds Houseplants for 8 Months and Includes Over a Year Supply (6oz (1 House Plant Fertilizer Bag))
HOUSE PLANT FERTILIZER - by PowerGrow: This is the Highest Quality Controlled Release Fertilizer available for your houseplants! Stressed out by trying to figure out how to feed your houseplants? Don't worry about it anymore with the House Plant Fertilizer by PowerGrow. A complete and balanced Slow Release Fertilizer +PLUS essential Micro Nutrients and Trace Minerals that other fertilizers do not have. The Controlled Release formula feeds your house plants for up to 8 months! Each bag contains 6 ounces which will last well over A YEAR SUPPLY! The balanced nutrients in our House Plant Fertilizer will give your plants the essential nutrients they need to produce lush, healthy growth - GUARANTEED! Perfect for the most popular houseplants, and can be used as the following: Pothos , Spider Plant, ZZ Plant, Monstera Plant, Olive Tree, Aglaonema, Dioon, Fittonia, Jade Plant, Hoya Plant, Plumeria Plants, Yucca Plant, Hostas, Heuchera Plants, Dracaena Plant, Azalea, Orchid, Snake Plant, Peace Lily, Begonia, African Violet, Aloe Vera Plant, Weeping Fig, Calla Lillies, Prayer Plant, Philodendron Plant, Dieffenbachia, Croton Plant, Christmas Cactus, Air Plants, Indoor Cactus, Mums, Rubber Plant, Anthurium, Areca Palm, Lady Palm, Cyclamen, Peacock Plant, Dendrobium, Deacaena, Kalanchoe, Syngonium, Oakleaf Ivy, Aspargus Fern, Bamboo Palm, Boston Fern, Gerbera Daisy, Kimberley, and Fiddle Leaf Fig.