Phlizon Newest 1200W High Power Series Plant LED Grow Light,with T...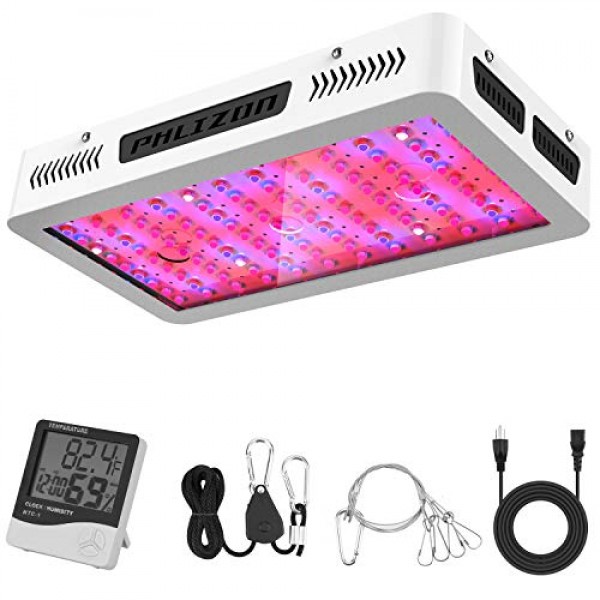 Phlizon Newest 1200W High Power Series Plant LED Grow Light,with Thermometer Humidity Monitor,with Adjustable Rope,Double Chips Full Spectrum Grow Lamp for Indoor Plant
About US:
Phlizon is a professional LED light direct manufacturer , We have many excellent and creative products like plant grow light and led aquarium light.We can promise the quality of our goods and provide you professional plant grow light suggestions.
Product Info:
Size: 8.3*15.7*2.36inch (21*40*6cm)
Weight: 7.47 lbs
LED chips: 10W Double Chips Leds * 120PCS
View Angle of LEDs: 90°and 120°mixed
Work wide Voltage: From 85V to 265V all can be used.
Frequency: 50/60 HZ
Certificates: CE, ROHS, FCC
Lighting Coverage: Core Coverage area at 48"*48"(4*4ft). Maximum coverage area at 64"*64"(5.4*5.4ft)
Most useful coverage: At 24" Height
Package includes:
1X Phlizon 1200W LED grow light
1X power cord
1X hanging hook kits
1x Thermometer humidity monitor
Using Tips:
-Suggested Continuous Working Time: 10~16 hours per day
-Indoor use only, not water-proof.
-Recommended Height to Plant: 12"-50"according to different growing stages
-2 year warranty and 30 days money back is our promise, if any delivery or quality problems, pls contact us firstly, problems will be solved asap.
NO REFLECTOR NO DANGER- Many others' grow lights are used led spotlight reflector to make the light look beautiful, but we don't use it because the led reflector is not heat-resistant. If a short circuit occurs,reflector at 80℃ is easy to melt and fire. we do not use the reflector, we can not give up the safety beause of beauty.
EXTREMELY HIGH POWER- Adopt Dual-Chip(10W) LEDs which has highest PAR/LUMEN output.Douple chips 10W LEDs is much brighter and more efficient than traditional 3W and 5W LEDs.The lights will provide your plant with the largest source of light to ensure your plants grow quickly and healthy whatever the weather is.
FULL SPECTRUM- We did lots of experimentation to ensure that this full spectrum design promotes plant growth. It includes universal Blue Red IR UV and white light provide everything plant desire in the natural sunlight. The expensive IR UV led promote plants to defense mechanisms, blue and red led is essential light for plant growth.
MAXIMUM ENERGY SAVING- It can replace 800W HPS/MH and actual power is 190watt. Best hang height at 24",Core Coverage area at 24*24"(2*2ft). Maximum coverage area at 30*30"(2.5*2.5ft). It is more scientifically and energy-efficient than HPS HID and MH. It serves both herb/veg/bloom and is convinient for you.
BEST SERVICE- We are a professional LED light manufacturer with strong R&D team and many light tester. 2 years warranty plus 30 days money back guarantee. If you have any problems, please feel free to contact us. We will provide you with completely satisfing reply.