Philips EnduraLED MR16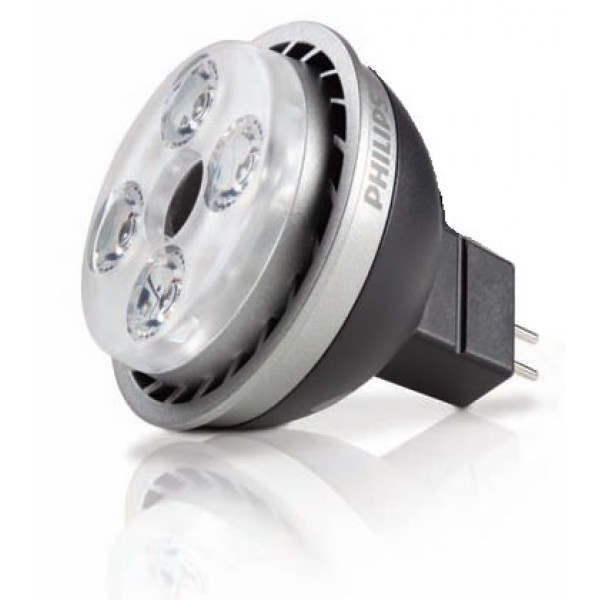 Philips EnduraLED™ MR is a compact lamp for MR16 fixtures and sockets. It is well-suited for tracks, rails, cables, and pendant fixtures in interior architectural, retail, exhibit, and display applications. The eW MR lamp uses a standard GU5.3 base and MR16 two-pin connectors so it is a great LED replacement for less energy-efficient, hotter, conventional lamps. Its high-intensity LED package and custom optics are an easy upgrade that fit most standard low-voltage MR16 light fixtures.
It uses a high quality energy efficient LED and vacuum-matalized reflectors behind a clear tempered glass lens to produce a warm white light that draws 7 watts of electricity. The beam angle is 25 degrees. With a rated life of 25,000 hours it will last far longer than a standard MR16 halogen bulb, and with no UV/IR light in the beam it will not fade colors.
Electrical Specifications: 12 volts AC, 7 watts
Light Output, Approx: 260 lumens
Base: GU5.3
Rated Life: 25,000 hours
Color Temperature: about 2,700 degrees Kelvin
Minimum Start Temperature: -4 degrees Fahrenheit (-20 degrees C)
Maximum Operating Temperature: 122 degrees Fahrenheit (50 degrees C)
Manufacturer Warranty: 15,330 hours over 36 months
Additional Information: Manufacturer Specification Sheet (pdf)
Note: This lamp is not suitable for use on dimming circuits, and is not compatible with some electronic transformers because the minimum load rating of the tranformer can be higher than the energy consumption of the LED. Symptoms of incompatibility include no light output, flickering, or random shutdown. The transformer output requirements should be 10 to 13 Volts at 40-60 Hertz, with a minimum load rating equal to or lower than 7 watt.
Item No EFI-1100.726