Satin Heatless Hair Curler Set,Hair Curlers to Sleep In,Heatless C...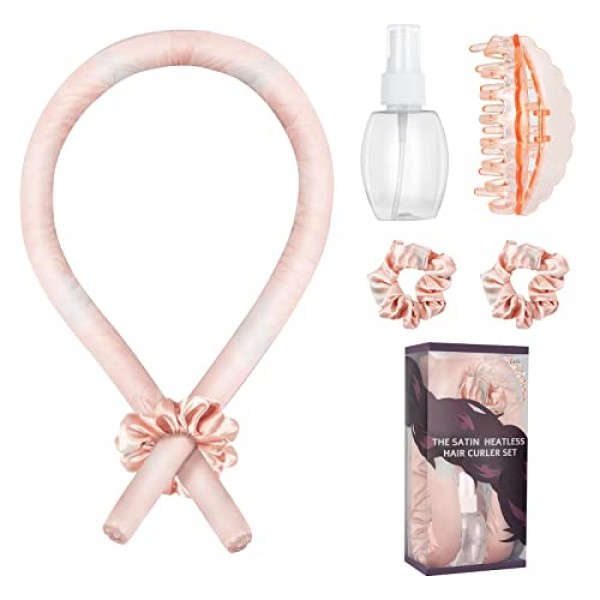 Satin Heatless Hair Curler Set,Hair Curlers to Sleep In,Heatless Curling Rod Headband,Soft Foam Heatless Curls with Hair Roller Clips and Scrunchies,No Heat Overnight Hair Curlers for Long Hair Women (blue-pink)
Upgrade Heatless Hair Curler Upgraded rollers hair curlers set is with a spray bottle, two scrunchies, also with an upgraded hair claw clip, which keeps curlers tightly and don't slip off when sleeping. With Pearl sealed design on the top of curls rod headband, not loosened easily.
No Damage This hair curlers is made of silk fabric and EVA foam material, which is much softer, the smooth surface won't damage your hair. No need to heat, physical natural forces to shape the hair, bring you a new way of curling hair. Also there's no chemical smell, it's safety to use.
Time Saving No heat curling headband is much easier to have a beautiful hairstyle without taking long time when you watch TV, take exercise, fall asleep. It's lightweight, even easily carry when go outside
How to Use 1.Start with slightly damp hair, lightly dampening the dry hair with a spray bottle or wet brush. Or drying your hair to slightly damp after shower. 2.Fix the middle position of the curling roller with hair clip on the top of your head.3.Start braiding the hair from one side, and then wind it around this curling roller When the hair is braided to the end, wind it with scrunchies.
Perfect Gift This heatless curl is with a delicate gift box, it's the ideal gift for mom,wife, friends , no matter who you loved in Christmas, Birthday, Mother's Day, Valentine' Day.