Dabur Amla Hair Oil - Amla Oil, Amla Hair Oil, Amla Oil for Health...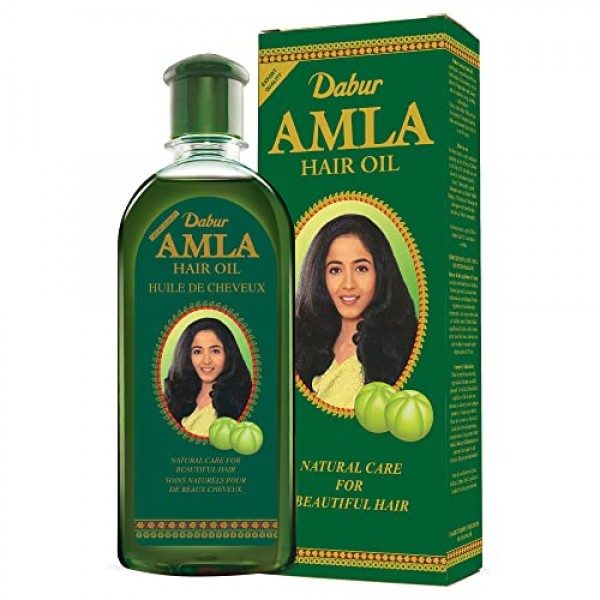 Dabur Amla Hair Oil - Amla Oil, Amla Hair Oil, Amla Oil for Healthy Hair and Moisturized Scalp, Indian Hair Oil for Men and Women, Bio Oil for Hair, Natural Care for Beautiful Hair (300ml)
WHAT IS AMLA: Amla fruit is a dried fruit known as Indian gooseberry. It is derived from the tree of the same name, which is native to India and Nepal. Amla berries are also an excellent source of Vitamin C. Vitamin E, which may help support a healthy scalp and thick, strong hair
POTENCY: Our Dabur Amla Hair Oil has natural Amla oil as the main ingredient. It nourishes the scalp and strengthens the hair strands, from root to tip, to give you thick, long & shiny tresses. This oil smoothes frizzy hair and makes it flowing and easy to comb. Our Amla Hair oil also has vegetable extracts that add nourishment and moisturize the hair to give you soft and supple tresses that make you look beautiful.
ALL-NATURAL INGREDIENTS: We use only natural Amla oil plus beneficial blends of vegetable oils to create hair oil that is gentle on your hair and scalp. All of our products are free from harmful chemicals or preservatives and are safe for recommended use. It can be used by men and women looking to keep strong and healthy hair.
A BRAND YOU CAN TRUST: Dabur is one of the most trusted worldwide brands and has committed to providing high-quality and authentic products to customers worldwide. Customer satisfaction is one of the key values of our brand, and we are always on the lookout for innovation to provide products that can help people live healthier lives.
DIRECTIONS FOR USE: Apply an adequate quantity (up to 10ml) of Dabur Amla Hair Oil into the hair and leave it for some time (ideally 1 hour). Then apply a good shampoo such as Vatika Ayurveda range of shampoos. Massage the shampoo well into the hair and scalp and rinse thoroughly, followed by Vatika Ayurveda range of conditioners. Apply Dabur Amla Hair Oil three times a week. For best results, use our premium range of Vatika Ayurveda products.