Ardell Individuals False Eye Lashes Combo Black 4 Pack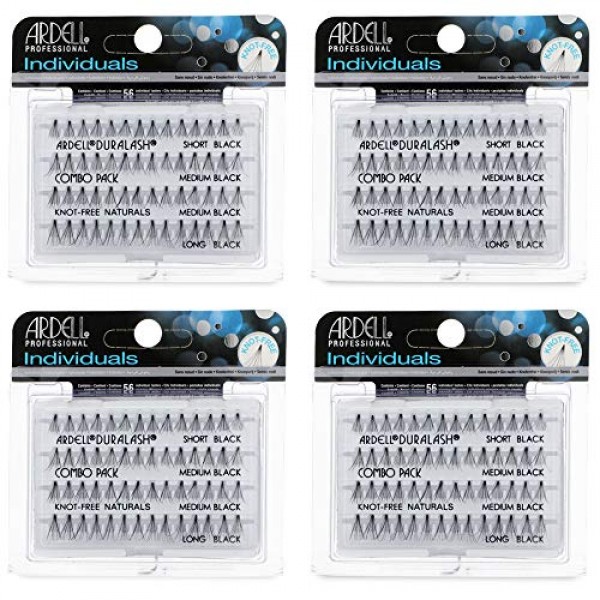 Ardell Individuals False Eye Lashes Combo Black 4 Pack
ULTRA-LUXURIOUS, CUSTOMIZABLE FAKE LASHES: Popular with lash lovers the world over, individual eyelashes offer the flexibility to create virtually any look that you desire. Ardell's new natural, ultra-luxurious and lightweight lash individuals will create the perfect amount of lash volume for a naturally flirty and alluring look personalized by you. These individuals enhance lash length and dimension, and the silky, mink lashes with tapered tips blend seamlessly with your natural lashes.
KNOT-FREE, INVISIBAND FOR THE MOST COMFORTABLE WEAR: There's a reason Ardell Duralash Naturals continue to win awards and grace red carpets, its because they are flawless. The knot-free tip of Ardell False Eye Lashes Combo Black applies to the top of the lash, not the eyelid, creating a completely natural and seamless application. Each cluster is presented on a tiny, invisible band for easy application, comfortable wear and make sure your falsies will stay on all day, all night!
HANDCRAFTED, 100% HUMAN HAIR: These false eyelashes wispies from Ardell are knotted and feathered by hand for perfect uniformity and a natural look. They are made of superior quality 100% human hair and free from harmful ingredients that could irritate.
PRO-APPROVED, TOP PICK INDIVIDUAL LASHES: Recommended by lash professionals and regular users, this combo pack of individual fake lashes from Ardell will help transform your next makeup look. With it's soft and premium quality hair strands, it will make you feel like it is your lashes and add that special touch to your makeup! With these natural falsies on, you won't even need to put on mascara!
ECONOMICAL, REUSABLE COMBO PACK: With this Ardell False Eye Lashes Combo Black, you'll receive short, medium and long length individual lashes. Each tray contains 56 individual falsies in black color. Have a great value for money with these 4 combo packs of individual falsies! It can last multiple uses with proper care when glue from the band is removed, cleaned delicately and stored properly.